Market Match Limit Lifted!
Unlimited Market Match, Market Umbrella's SNAP incentive program, extended through June 30, 2021!
Good Food Concepts
Food Insecurity
The US Department of Agriculture (USDA) defines food insecurity as a lack of consistent access to enough food for a healthy, active lifestyle. Food insecurity often leads to stress, poor nutrition, and an elevated risk of chronic disease. Normally, one in six Louisiana residents struggles with food insecurity, including one in four children, although with increased unemployment and school closures, coronavirus has made this problem much worse. Learn more about the health impacts of poverty and food insecurity.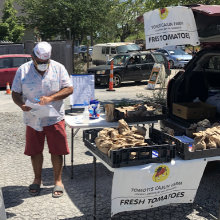 ---
About Us
Market Umbrella is an independent nonprofit 501(c)(3), based in New Orleans, whose mission is to cultivate the field of public markets for public good. Market Umbrella has operated the Crescent City Farmers Markets (CCFM) since 1995.
The Crescent City Farmers Market operates weekly year-round throughout New Orleans. The CCFM hosts nearly 60 local small farmers, fishers, and food producers, and more than 150,000 shoppers annually.