Market Match Limit Lifted!
Unlimited Market Match, Market Umbrella's SNAP incentive program, extended through June 30, 2021!
Good Food Concepts
Earth Day
Earth Day is an annual event celebrated around the world on April 22 to demonstrate support for environmental protection. Good food is a practice in sustainability for many reasons. Not only are "food miles" - the distance food travels from source to consumption - reduced when local food is consumed, but small farms tend to require less synthetic fertilizers and pesticides per acre than industrial monoculture farms and tend to grow heirloom and other less common varieties thereby increasing biodiversity. Celebrate Earth Day this week by supporting local farms!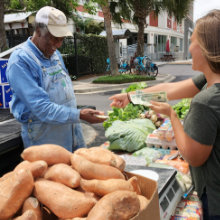 ---
About Us
Market Umbrella is an independent nonprofit 501(c)(3), based in New Orleans, whose mission is to cultivate the field of public markets for public good. Market Umbrella has operated the Crescent City Farmers Markets (CCFM) since 1995.
The Crescent City Farmers Market operates weekly year-round throughout New Orleans. The CCFM hosts nearly 60 local small farmers, fishers, and food producers, and more than 150,000 shoppers annually.