Market Match Limit Lifted!
Unlimited Market Match, Market Umbrella's SNAP incentive program, extended through June 30, 2021!
Good Food Concepts
Sustainability
Our planet exists in a careful ecological balance with a finite number of resources. The goal of sustainable agriculture is to produce sufficient food for current populations without disrupting the ability of future generations to provide for themselves by preserving the balance of natural resources within ecosystems. Learn more about sustainable agriculture and support the Crescent City Farmers Market to create a sustainable future.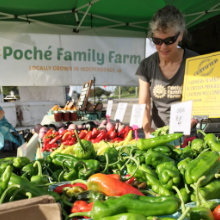 ---
About Us
Market Umbrella is an independent nonprofit 501(c)(3), based in New Orleans, whose mission is to cultivate the field of public markets for public good. Market Umbrella has operated the Crescent City Farmers Markets (CCFM) since 1995.
The Crescent City Farmers Market operates weekly year-round throughout New Orleans. The CCFM hosts nearly 60 local small farmers, fishers, and food producers, and more than 150,000 shoppers annually.