Market Match Limit Lifted!
Unlimited Market Match, Market Umbrella's SNAP incentive program, extended through June 30, 2021!
Good Food Concepts
Social Determinants of Health
A person's health isn't just determined by his or her genetic code. The physical and social environment plays an important role in shaping the health of individuals and communities. Neighborhoods that have accessible affordable housing, food justice, strong social support networks, and are free of violence and environmental pollutants are all essential to promoting healthier communities. Learn more about how social and environmental conditions impact health.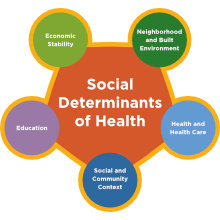 ---
About Us
Market Umbrella is an independent nonprofit 501(c)(3), based in New Orleans, whose mission is to cultivate the field of public markets for public good. Market Umbrella has operated the Crescent City Farmers Markets (CCFM) since 1995.
The Crescent City Farmers Market operates weekly year-round throughout New Orleans. The CCFM hosts nearly 60 local small farmers, fishers, and food producers, and more than 150,000 shoppers annually.