Market Match Limit Lifted!
Unlimited Market Match, Market Umbrella's SNAP incentive program, extended through June 30, 2021!
Good Food Concepts
Third place
Third places are social environments outside the primary social spaces of the home and the workplace. While the workplace is a structured setting and the home is a private one, third places provide an opportunity to form spontaneous social connections among a diverse group of people. Examples of third places include public parks, libraries, cafes, and of course, farmers markets! Covid 19 has certainly challenged this as for many, there is now only a single place - the home. We look forward to brighter days when our markets again serve not just as retailers of local food, but also as third places in our community.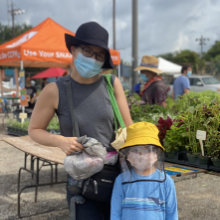 ---
About Us
Market Umbrella is an independent nonprofit 501(c)(3), based in New Orleans, whose mission is to cultivate the field of public markets for public good. Market Umbrella has operated the Crescent City Farmers Markets (CCFM) since 1995.
The Crescent City Farmers Market operates weekly year-round throughout New Orleans. The CCFM hosts nearly 60 local small farmers, fishers, and food producers, and more than 150,000 shoppers annually.