Market Match Limit Lifted!
Unlimited Market Match, Market Umbrella's SNAP incentive program, extended through September 30, 2021!
Recipe
Roasted Broccoli and Cauliflower with Lemon and Ginger
On your mark. Get set. Roast! It's the most wonderful time of the year!! (Yeah, we know, we say that a lot.) As temperatures dip, cole crops like cauliflower, Brussels, broccoli, and cabbage have made their way back to CCFM. And, if you haven't tried roasting one of these guys in the oven, now's your chance! Perfect as a side or an addition to your favorite veggie soup or stew, this easy-peasy-lemon-squeezy recipe from Italicana Kitchen will have you getting off your Brassicas and into the kitchen. Buon appetito!!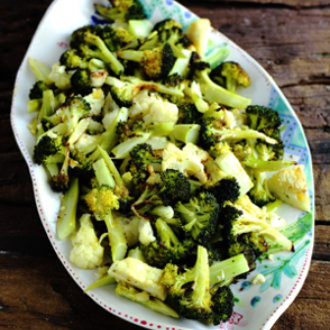 Ingredients
1 head broccoli, cut into florets
1 head cauliflower, cut into florets
6 tablespoons extra virgin olive oil
1 teaspoon grated lemon zest
1 teaspoon grated ginger
½ teaspoon salt
Freshly ground black pepper
Instructions
Preheat oven to 400°F (200°C). On a rimmed baking sheet, toss together the broccoli, cauliflower, extra virgin olive oil, lemon zest, grated ginger, salt and black pepper until well coated. Evenly distribute the vegetables on the sheet and roast until tender and slightly browned; 20-30 minutes.
---
About Us
Market Umbrella is an independent nonprofit 501(c)(3), based in New Orleans, whose mission is to cultivate the field of public markets for public good. Market Umbrella has operated the Crescent City Farmers Markets (CCFM) since 1995.
The Crescent City Farmers Market operates weekly year-round throughout New Orleans. The CCFM hosts nearly 60 local small farmers, fishers, and food producers, and more than 150,000 shoppers annually.