Market Match Limit Lifted!
Unlimited Market Match, Market Umbrella's SNAP incentive program, extended through September 30, 2021!
Recipe
Strawberry Kale Salad
New year. New attitude. We made it through another year and to say 2020 was a doozy would be an understatement. As we enter this new year and reflect on all the holiday food traditions we indulged now is the perfect time to hit the reset button. No matter your New Year's resolution, here's a quick and healthful recipe from Give Me Some Oven that will have you saying kale, yeah!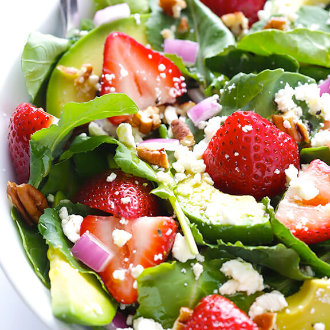 Ingredients
Salad Ingredients:
6 cups fresh baby kale (*or see note below for using other kinds of kale)
1 pint strawberries, hulled and sliced
1–2 avocados, peeled, pitted and diced
4 ounces crumbled goat cheese (or other soft cheese)
1/4 cup chopped pecans, toasted
half a small red onion, thinly sliced
white balsamic vinaigrette (recipe below)
White Balsamic Vinaigrette Ingredients:
1/2 cup extra virgin olive oil
1/4 cup white balsamic vinegar
3–4 tablespoons honey
1/2 teaspoon sea salt
1/4 teaspoon freshly-cracked black pepper
Directions
To Make The Salad:
Toss all ingredients together with your desired amount of dressing until combined. Serve immediately.
To Make The Vinaigrette:
Whisk all ingredients together until combined.
*If you choose to use traditional kale, pour an extra few teaspoons of oil onto the greens first and massage it into them with your hands for 1 minute to soften.
---
About Us
Market Umbrella is an independent nonprofit 501(c)(3), based in New Orleans, whose mission is to cultivate the field of public markets for public good. Market Umbrella has operated the Crescent City Farmers Markets (CCFM) since 1995.
The Crescent City Farmers Market operates weekly year-round throughout New Orleans. The CCFM hosts nearly 60 local small farmers, fishers, and food producers, and more than 150,000 shoppers annually.