How to Drive-Thru | March 8, 2021
Fresh & Local:
How to Drive-Thru
It has been 49 weeks since the debut of the CCFM Drive Thru Market which has evolved into a smooth-running weekly event that continues to connect farmers, fishers and food producers to local eaters in the safest way possible during this time of uncertainty. Thanks to City Park, you can now pick up your weekly groceries every Sunday at the Tad Gormley Stadium parking lot from 8am to 12pm - enter on Marconi at Navarre.
We are getting ready for spring, strawberries are ripe for the picking, and farmers are peeling back those blankets! Use code "FRIENDS" for 50% off your first WhatsGood pre-order (valid through 5/31)!
New to Sunday drive-thru? It's easy:
Order and pay online Wednesday through Friday
We'll email you a placard to print and fill out with your name and the vendors who you've shopped from to place in your windshield the day of market (this helps us expedite your visit once at market)
Arrive and drive through the market and the vendor will place your order in your trunk
Repeat as needed!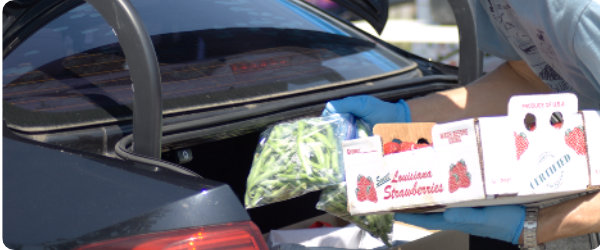 Picks of the Week:

Become a CCFM Vendor

After a year of hitting the brakes on our market norms and pivoting to new market models in the face of the pandemic to make sure all of our vendors are being supported, we are now accepting new vendor applications! Are you a farmer or food producer? Apply here to attend our Tuesday Uptown market, Thursday Mid-City market or Sunday City Park market!

Note: As we work to navigate the rapidly changing environment that COVID - 19 has brought us, modifications have been made to our vendor application process. Vendor application timelines and processes may be disrupted. All Crescent City Farmer Markets are operating in accordance with the CDC Farmers Market Guidelines.
Unlimited Market Match
Extended Through June

Now extended through June 2021, Market Umbrella will continue offering unlimited dollar-for-dollar Market Match for SNAP shoppers to purchase fresh fruits and vegetables. Additionally, thanks to a $500,000 USDA Gus Schumacher Nutrition Incentive Program (GusNIP) award, Market Umbrella has expanded Market Match beyond all CCFM market locations to also be available at:
Top Box Foods - on ALL SNAP eligible purchases, plus free home delivery
ReFresh Farmers Market on Monday evenings on the Lafitte Greenway
Grow Dat Youth Farm for 50% off seasonal CSA subscriptions
River Queen Greens for half price farm shares
Stay tuned for new nutrition classes and programs supporting Market Match at Tulane's Goldring Center for Culinary Medicine
Raw Honey

Ah, nature's antiseptic. Raw honey has been our natural remedy for mild illnesses and infections throughout human history. Sweet and a bit crunchy, raw honey is a great alternative to processed sugar--all the nutrients, vitamins, and antioxidants we need without the guilt! Make sure that your honey is raw and unfiltered--pasteurized honey, which is heated to a high temperature for bottling, ends up having all the lovely health benefits killed off in the process. Add a jar (with or without the comb!) to your shelves from Power's Beekeepers or Burg's Bees.
VEGGI Farmers Cooperative
Needs Yours Help

Last week the VEGGI van was stolen and while the team was fortunate to have the vehicle located, it was not without the thief taking a few crucial, and valuable, parts. Transportation is crucial to any farm business, and absolutely essential to support the small farms behind VEGGI Farmers Cooperative who use the vehicle to aggregate products amongst vendors, attend farmers markets, and deliver CSA shares all across the city. Let's help VEGGI get back on the road and to market!
Vendor of the Week:

Isabel's Tamale's and Produce

After a well-deserved winter hiatus, Isabel's Tamales and Produce has returned to the Sunday drive-thru market now at City Park! Beloved farmer Isabel and the Mendez family grow a variety of items on their farm in Independence, Louisiana. Look for her online offering of fresh strawberries, spring veggies, and an array of homemade tortilla chips and salsas. And of course, we give a warm welcome back to her tamales, made fresh before each market - how we have missed them!
Recipes of the Week:

Honey Roasted Pecans

The start of spring (and hopefully the end of cold days) has people back on their salad kick. Lately honey roasted pecans like these from The Spruce Eats, have become a favorite at the veggie bar. Nutty and sweet, these golden gems add a candied crunch to the salad du jour. Find pecans and honey at any of our weekly markets now.

What's your favorite dish to make after visiting the Crescent City Farmers Market? Share your recipes with us on Instagram or Facebook or even Twitter and it might be featured in our weekly newsletter!
Market Match Limit Lifted!
Unlimited Market Match, Market Umbrella's SNAP incentive program, extended through June 30, 2021!
About Us
Market Umbrella is an independent nonprofit 501(c)(3), based in New Orleans, whose mission is to cultivate the field of public markets for public good. Market Umbrella has operated the Crescent City Farmers Markets (CCFM) since 1995.
The Crescent City Farmers Market operates weekly year-round throughout New Orleans. The CCFM hosts nearly 60 local small farmers, fishers, and food producers, and more than 150,000 shoppers annually.