Vendors
Tiny Greens
While produce has been limited at market due to the lasting effects Ida has had on our vendors' production, you can easily find a range of fresh and nutrient-dense microgreens and sprouts available at market this fall. Know Dat Grow Dat, growing microgreens and seasonal produce right here in New Orleans, is owned by Mike Beachamp, a retired pharmacist committed to exploring growing techniques of plants to prevent diet-related illness. You can find him regularly at Tuesday and Thursday markets with a variety of prepackaged cut microgreens, as well as live ones so you can grow and cut your own. River Queen Greens, founded in 2017 and operated by Annie Moore and Cheryl Nunes, is proud to be Naturally Grown Certified and produce a rich range of produce, focusing mostly on salad greens, herbs, and microgreens. We also want to warmly welcome Sam Sprouts, a recent addition to our market microgreen team! Sam Sprouts, hailing from Covington, LA, produces an assortment of de-hulled, spin-dried, and carefully packaged sprouts, microgreens, and cold-pressed juice. Being rich in nutrients and flavor, sprouts and microgreens will make the perfect addition to your sandwiches, salads, and diet!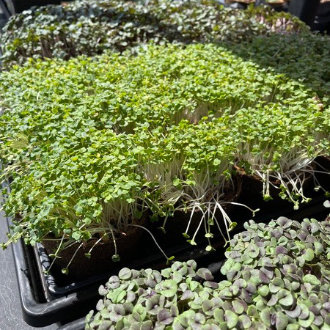 ---
Market Match Limit Lifted!
Unlimited Market Match, Market Umbrella's SNAP incentive program, extended through December 31, 2021!
About Us
Market Umbrella is an independent nonprofit 501(c)(3), based in New Orleans, whose mission is to cultivate the field of public markets for public good. Market Umbrella has operated the Crescent City Farmers Markets (CCFM) since 1995.
The Crescent City Farmers Market operates weekly year-round throughout New Orleans. The CCFM hosts nearly 60 local small farmers, fishers, and food producers, and more than 150,000 shoppers annually.