Market Match Limit Lifted!
Unlimited Market Match, Market Umbrella's SNAP incentive program, extended through September 30, 2021!
Recipe
Zucchini Baby Food Puree
Can't make it in time to the Saturday CBD market for the Eat Local Challenge baby food demo? No worries! Try this zucchini recipe from Hankys Happy Home that only contains one ingredient - you guessed it, zucchini! Any variety of squash works, and you can mix and match. As you add more ingredients to your little one's repertoire, you can add herbs like basil or mint to develop their palette and increase nutrition.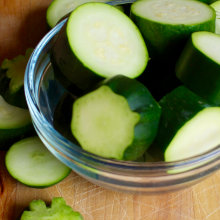 Ingredients
2 zucchini, cut into 1-inch rounds
Directions
Bring 2 cups of water to a boil in a medium pot with a steamer. Add zucchini and steam until tender, about 7 minutes.
Transfer zucchini to a food processor or blender using a slotted spoon and puree until smooth.
Notes
Store for 3 days in refrigerator or 3 months in a freezer.
Ideal Age is 6+ Months.
---
About Us
Market Umbrella is an independent nonprofit 501(c)(3), based in New Orleans, whose mission is to cultivate the field of public markets for public good. Market Umbrella has operated the Crescent City Farmers Markets (CCFM) since 1995.
The Crescent City Farmers Market operates weekly year-round throughout New Orleans. The CCFM hosts nearly 60 local small farmers, fishers, and food producers, and more than 150,000 shoppers annually.