Market Match Limit Lifted!
Unlimited Market Match, Market Umbrella's SNAP incentive program, extended through June 30, 2021!
Good Food Concepts
Urban Agriculture
Most of us imagine farms as wide open fields in the countryside, but farming can also take place in the middle of cities. Urban agriculture transforms empty lots or even rooftops into viable fields, increasing the accessibility of fresh, healthy produce in cities while educating communities on food production, cutting down on food miles, creating green space and permeable surfaces… the list of benefits goes on and on. CCFM hosts several urban growers such as Grow Dat Youth Farm, VEGGI Farmers Coop, River Queen Greens, Know Dat Grow Dat, Powers Beekeepers and our featured vendor of the week (CCFM box partner and Drive-Thru participant) SPROUT NOLA.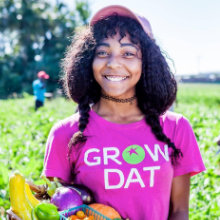 ---
About Us
Market Umbrella is an independent nonprofit 501(c)(3), based in New Orleans, whose mission is to cultivate the field of public markets for public good. Market Umbrella has operated the Crescent City Farmers Markets (CCFM) since 1995.
The Crescent City Farmers Market operates weekly year-round throughout New Orleans. The CCFM hosts nearly 60 local small farmers, fishers, and food producers, and more than 150,000 shoppers annually.