Market Match Limit Lifted!
Unlimited Market Match, Market Umbrella's SNAP incentive program, extended through June 30, 2021!
Good Food Concepts
Chronic Disease
Chronic diseases are long term medical conditions like cancer, diabetes, and hypertension that require ongoing care and often limit daily activities. Six in ten adults in America suffer from at least one chronic disease, which are the leading causes of death and disability in the United States. Chronic diseases are even more prevalent in Communities of Color, especially in the wake of COVID 19. Health differences are often due to economic and social conditions that are more common among African Americans than whites. For example, African American adults are more likely to report they cannot see a doctor because of cost. All Americans should have equal opportunities to pursue a healthy lifestyle. Learn more here.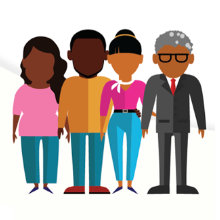 ---
About Us
Market Umbrella is an independent nonprofit 501(c)(3), based in New Orleans, whose mission is to cultivate the field of public markets for public good. Market Umbrella has operated the Crescent City Farmers Markets (CCFM) since 1995.
The Crescent City Farmers Market operates weekly year-round throughout New Orleans. The CCFM hosts nearly 60 local small farmers, fishers, and food producers, and more than 150,000 shoppers annually.