Market Match Limit Lifted!
Unlimited Market Match, Market Umbrella's SNAP incentive program, extended through June 30, 2021!
Good Food Concepts
Bycatch
Bycatch, in the fishing industry, is a term for a fish or other marine species that is caught unintentionally while catching certain target species or sizes of fish, crabs, etc. Bycatch is either of a different species, the wrong sex, or is undersized or juvenile individuals of the target species, but to New Orleanians, bycatch means good eatin'. Four Winds Seafood, master fishers of bycatch, know the value of a croaker, excitement of gourmet calamari, flavor of a tender, flaky broiled flounder, and the celebration of a good ole crab boil. Find the "Shrimp Lady" Kay at all of our weekly markets, including Bucktown - arguably the best place to find local seafood.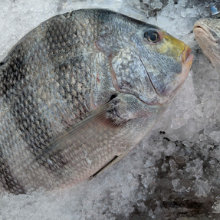 ---
About Us
Market Umbrella is an independent nonprofit 501(c)(3), based in New Orleans, whose mission is to cultivate the field of public markets for public good. Market Umbrella has operated the Crescent City Farmers Markets (CCFM) since 1995.
The Crescent City Farmers Market operates weekly year-round throughout New Orleans. The CCFM hosts nearly 60 local small farmers, fishers, and food producers, and more than 150,000 shoppers annually.