Market Match Limit Lifted!
Unlimited Market Match, Market Umbrella's SNAP incentive program, extended through June 30, 2021!
Good Food Concepts
H-2A
H-2A, or temporary agricultural workers program, allows on a temporary basis, agricultural producers in the US to fill seasonal labor gaps with foreign workers, often from Central and South America. Programs like this have been a part of American agriculture since the end of WWII, and agricultural producers of all sizes utilize it, including small local farmers. With local crops like berries available in abundance for only part of the year, temporary employees can make a lot of sense and as increasingly, the US has seen farm consolidation and fewer farm operators, it's an increasingly difficult to find skillset. It's been so important that even with the recent elimination of other immigration programs, this one was untouched.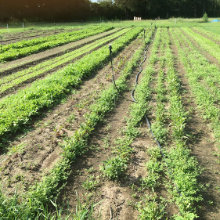 ---
About Us
Market Umbrella is an independent nonprofit 501(c)(3), based in New Orleans, whose mission is to cultivate the field of public markets for public good. Market Umbrella has operated the Crescent City Farmers Markets (CCFM) since 1995.
The Crescent City Farmers Market operates weekly year-round throughout New Orleans. The CCFM hosts nearly 60 local small farmers, fishers, and food producers, and more than 150,000 shoppers annually.