Market Match Limit Lifted!
Unlimited Market Match, Market Umbrella's SNAP incentive program, extended through June 30, 2021!
Good Food Concepts
Cooperative
A cooperative, or co-op for short, is a type of business that is owned and operated by its members who all benefit from its profits. Within agriculture, farmers may form a co-op by pooling their resources, like land and machinery, to build a more robust business. Cooperatives also have more control over the prices they sell at, and collective buying power which leverages lower prices for bulk purchases. Historically, cooperatives have enabled groups deprived of economic opportunity due to structural racism a way to build community strength outside of the financial systems they've been denied access to. At Crescent City Farmers Markets, the Indian Springs Farmers Association is a joint venture of 30+ small farms from Mississippi that collaborate in growing and distributing their produce. Likewise, vendor VEGGI Farmers Cooperative is a community member-owned and operated farmer's cooperative based out of New Orleans East, begun after Hurricane Katrina to help displaced shrimpers pivot to farming. You can find both in the home delivery CCFM Box and Mr. Ben Burkett of Indian Springs at the Uptown Market.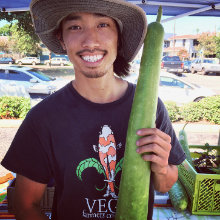 ---
About Us
Market Umbrella is an independent nonprofit 501(c)(3), based in New Orleans, whose mission is to cultivate the field of public markets for public good. Market Umbrella has operated the Crescent City Farmers Markets (CCFM) since 1995.
The Crescent City Farmers Market operates weekly year-round throughout New Orleans. The CCFM hosts nearly 60 local small farmers, fishers, and food producers, and more than 150,000 shoppers annually.