Market Match Limit Lifted!
Unlimited Market Match, Market Umbrella's SNAP incentive program, extended through June 30, 2021!
Good Food Concepts
Louisiana Harvest of the Month
The Louisiana Harvest of the Month (LA HOM) program showcases locally grown foods in Louisiana schools, institutions, and communities. Each month, participating sites focus on promoting one locally grown item (e.g., winter squash). Activities could include serving local items in a meal or snack, offering taste tests, displaying LA HOM materials, or teaching educational lessons and activities. Louisiana Harvest of the Month is the perfect way to launch or grow a farm to school program, as it provides an easy framework to follow and ready-to-use materials. Click here for a free LA Harvest of the Month citrus coloring page!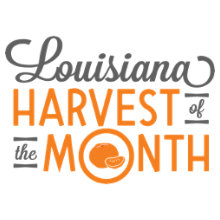 ---
About Us
Market Umbrella is an independent nonprofit 501(c)(3), based in New Orleans, whose mission is to cultivate the field of public markets for public good. Market Umbrella has operated the Crescent City Farmers Markets (CCFM) since 1995.
The Crescent City Farmers Market operates weekly year-round throughout New Orleans. The CCFM hosts nearly 60 local small farmers, fishers, and food producers, and more than 150,000 shoppers annually.