Market Match Limit Lifted!
Unlimited Market Match, Market Umbrella's SNAP incentive program, extended through June 30, 2021!
Good Food Concepts
Sometimes Food
We use this concept in our Meet Me at the Market programming to help young eaters differentiate between foods that are nutritious and meant to be enjoyed often and foods that should be enjoyed in limited quantities or maybe not at all. The American Heart Association calls pizza, burgers, and ice cream "sometimes foods," They do not offer much in nutritional value and potentially have large amounts of calories, sugar, or unhealthy fats.
Thanksgiving tends to be one of those times where we enjoy all of our favorite sometimes foods all at once and at high volume. But Thanksgiving also can be a veggie-rich day with plenty of delicious opportunities for healthful eating. Consider replacing marshmallow-topped and butter-laden dishes, with a crudite of cosmic purple carrots, watermelon radish and early broccoli. Or take a break from gravy and pies and peel a sweet and juicy satsuma.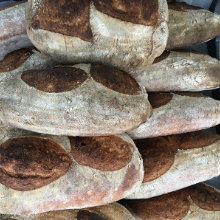 ---
About Us
Market Umbrella is an independent nonprofit 501(c)(3), based in New Orleans, whose mission is to cultivate the field of public markets for public good. Market Umbrella has operated the Crescent City Farmers Markets (CCFM) since 1995.
The Crescent City Farmers Market operates weekly year-round throughout New Orleans. The CCFM hosts nearly 60 local small farmers, fishers, and food producers, and more than 150,000 shoppers annually.