Market Match Limit Lifted!
Unlimited Market Match, Market Umbrella's SNAP incentive program, extended through September 30, 2021!
Recipe
Bridget's Bread Pudding for Breakfast
Leftover dinner rolls going stale? After running out of leftover pie to eat for breakfast, our family always turns leftover dinner rolls into a classic New Orleans bread pudding to keep our sweet tooths satiated throughout the holiday season. A warm chunk of bread pudding and a cup of hot tea keeps us all cozy inside on those rare chilly Louisiana days. This simple recipe from Mulate's is a Rabun family favorite.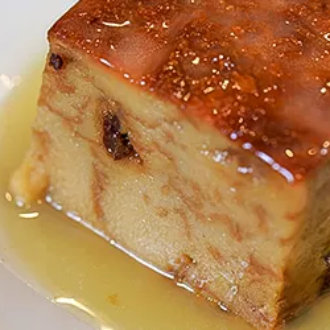 Ingredients
6 eggs
1 tsp. vanilla
2 cups whole milk
2 cups half-and-half
1 cup sugar
6 hamburger buns
½ cup raisins
Directions
Preheat oven to 350 degrees.
In a large bowl, whip eggs, and then add vanilla, milk, and half-and-half. Mix well. Add sugar and mix well.
Grease a 9x13 pan.
Break hamburger buns into pieces and place in greased pan.
Sprinkle raisins evenly throughout the bun pieces.
Pour egg mixture over buns.
Using your fingers, make sure that all bun pieces are soaked with the mixture.
Bake for approximately 45 minutes.
If you prefer a firmer texture, chill for about 2 hours, then reheat for serving.
---
About Us
Market Umbrella is an independent nonprofit 501(c)(3), based in New Orleans, whose mission is to cultivate the field of public markets for public good. Market Umbrella has operated the Crescent City Farmers Markets (CCFM) since 1995.
The Crescent City Farmers Market operates weekly year-round throughout New Orleans. The CCFM hosts nearly 60 local small farmers, fishers, and food producers, and more than 150,000 shoppers annually.