Market Match Limit Lifted!
Unlimited Market Match, Market Umbrella's SNAP incentive program, extended through September 30, 2021!
Recipe
Diya's Mama Wheeler's Lobster Curry
Lobster curry is a fusion recipe born from the South Indian and New England cultures of the Wheeler household. It is a family favorite during the holidays and a staple on Thanksgiving alongside turkey. Warm, spicy, and meaty, this curry is best the next day, mopped up with sweet Hawai'ian rolls (although serving over rice is always a good bet).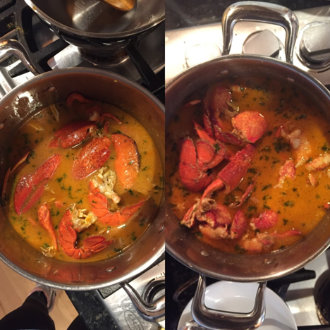 Ingredients
2 Lobster (boiled tails and claws only)
3 tbsp Oil
1 medium Onion (chopped)
2 inch piece Ginger
2 tbsp Coriander powder
1-2 tsp Chilli powder
¼ tsp Turmeric powder
1 stalk *Curry Leaves
½ cup Cilantro chopped
½ cup Coconut milk
1 cup Water
1/2 tbsp Lime juice
*Curry leaves can be found at the International Market in Metairie, among other Asian grocery stores. However, they are fine to leave out of the recipe in a pinch.
Directions
Heat 2 tbsp oil. Add chopped onion and fry until translucent (not brown). Add ginger and tomatoes. Fry until mushy. Blend the above with a little water (½ cup) carefully, as the mixture is hot.
Heat 1 tbs oil, add powders. Add pureed mixture from blender and curry leaves. Add salt to taste. Cover and cook on low heat 20-25 min. Lower heat further, add cilantro and lime juice.
Mix coconut milk with 1 cup water and add to the curry. Turn off the heat. Add lobster pieces. Let it sit for 8-10 hours before serving to allow the lobster flavor to develop. Heat gently before serving, making sure you don't toughen the lobster meat.
Enjoy :)
---
About Us
Market Umbrella is an independent nonprofit 501(c)(3), based in New Orleans, whose mission is to cultivate the field of public markets for public good. Market Umbrella has operated the Crescent City Farmers Markets (CCFM) since 1995.
The Crescent City Farmers Market operates weekly year-round throughout New Orleans. The CCFM hosts nearly 60 local small farmers, fishers, and food producers, and more than 150,000 shoppers annually.