Market Match Limit Lifted!
Unlimited Market Match, Market Umbrella's SNAP incentive program, extended through June 30, 2021!
Good Food Concepts
Foodshed
The geographic region that produces food for a population center. CCFM vendors typically come from within 200 miles which includes southeast Louisiana and southwest Mississippi. Some notable areas include Ponchatoula - known for the best Louisiana strawberries grown by Johndale's Farm, Fletcher Farm, and others (right across the lake), New Orleans - home to many urban CCFM growers including VEGGI Farmers Cooperative, River Queen Greens, Grow Dat Youth Farm, Know Dat Grow Dat, and various SPROUT NOLA growers (literally in our backyards!), and all the way to Flora, Mississippi - home to Amorphous Gardens (206 miles from NOLA, we are so appreciative of this morning trek, Jonathan!). While global supply chains have made food from all over the world available throughout the year for better or for worse, food produced within our foodshed travels less so it is much fresher, has a dramatically smaller carbon footprint, and keeps dollars circulating in the local economy.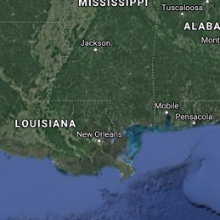 ---
About Us
Market Umbrella is an independent nonprofit 501(c)(3), based in New Orleans, whose mission is to cultivate the field of public markets for public good. Market Umbrella has operated the Crescent City Farmers Markets (CCFM) since 1995.
The Crescent City Farmers Market operates weekly year-round throughout New Orleans. The CCFM hosts nearly 60 local small farmers, fishers, and food producers, and more than 150,000 shoppers annually.