Tomorrow is Giving Tuesday! | November 30, 2020
Fresh & Local:
Tomorrow is Giving Tuesday!
"When I lost my job due to COVID back in March, the Market Match program was a godsend," said one Crescent City Farmers Market shopper recently. "I've been able to get $20 worth of free fruits and vegetables, weekly, at the market. I was even able to get some herb plants that I could grow at home. This meant being able to keep nutritious food on the table during a tough economic time for my family."
For this shopper, and hundreds of customers who receive Supplemental Nutrition Assistance (SNAP) benefits and shop at CCFM markets annually, Market Match has provided dollar-for-dollar matches for SNAP purchases up to $20 per shopping day for over a decade. And earlier this month, we lifted the $20 cap and to provide unlimited Market Match through the end of 2020.
Currently, New Orleans is facing some of the highest levels of food insecurity in the country, especially for children, and Market Umbrella is on the front line of putting fresh vegetables and fruit on the family dinner table. Thank you for your continued support of Market Umbrella.
The same shopper went on to say, "It also meant a lot to me to be able to support the farmers at the market that I know were also going through a tough time because of the pandemic. Being able to provide healthy meals to my family AND helping others at the same time was a win-win for me."
How can you continue to help?
By joining us in celebrating Giving Tuesday tomorrow, December 1 - this national day for generosity is the perfect opportunity to make your year-end gift to the market you love! Visit our website or text CCFM to 44-321 to donate.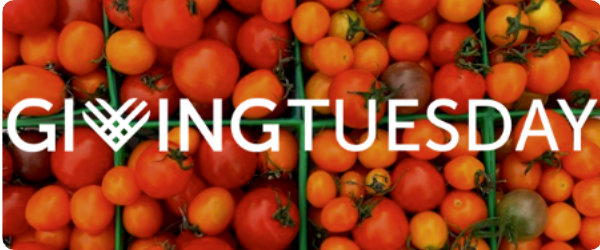 Good Food Concept of the Week:
In addition to running farmers markets, a critical component of Market Umbrella's work is to enhance food and nutrition access and awareness in our community. The Good Food Concept of the Week seeks to shed some light on this part of our work and also to demystify the jargon.
Foodshed

This week's Good Food Concept is Foodshed – The geographic region that produces food for a population center. CCFM vendors typically come from within 200 miles which includes southeast Louisiana and southwest Mississippi. Some notable areas include Ponchatoula - known for the best Louisiana strawberries grown by Johndale's Farm, Fletcher Farm, and others (right across the lake), New Orleans - home to many urban CCFM growers including VEGGI Farmers Cooperative, River Queen Greens, Grow Dat Youth Farm, Know Dat Grow Dat, and various SPROUT NOLA growers (literally in our backyards!), and all the way to Flora, Mississippi - home to Amorphous Gardens (206 miles from NOLA, we are so appreciative of this morning trek, Jonathan!). While global supply chains have made food from all over the world available throughout the year for better or for worse, food produced within our foodshed travels less so it is much fresher, has dramatically smaller carbon footprint, and keeps dollars circulating in the local economy.
Picks of the Week:

Thursday Mid-City Market

The Mid-City market on Thursday evenings will be returning in early December, but in a new location! You may have seen the construction at the Plaza on the Lafitte Greenway at the corner of Norman C. Francis Pkwy. and Lafitte Street. Well, that lovely new space is our future home. We are excited for the move, and will share details on the launch as construction progresses.
Unlimited Market Match!

Through the end of 2020, Market Umbrella will be offering unlimited dollar-for-dollar Market Match for SNAP shoppers to purchase fresh fruits and vegetables, thereby removing the signature program's normal $20 daily limit. Additionally, thanks to a $500,000 USDA Gus Schumacher Nutrition Incentive Program (GusNIP) award, Market Umbrella will expand Market Match beyond all CCFM market locations to also be available at:
Top Box Foods - on ALL SNAP eligible purchases, plus free home delivery
ReFresh Farmers Market on Monday evenings on the Lafitte Greenway
Stay tuned for new nutrition classes and programs supporting Market Match at Tulane's Goldring Center for Culinary Medicine
There are now so many ways to Market Match!
Volunteer with Crescent City Farmers Market
Eat Local, Save Big!

CCFM is offering $5 to on-site Bucktown Harbor Hybrid Market walk up shoppers! Just mention the Market Morsel at the welcome tent for a $5 token to be used on fresh, local food!

CCFM is also offering $5 off your order when you pre-order using WhatsGood with code: "BUCKWILD"! Offer valid until the end of the year for one-time use, limited to the first 100 shoppers.
Vendor of the Week:

Hot Plants

Ian Willson and the Hot Plants crew are BACK! If Ian's name sounds familiar, he is also known as the Dirt Nerd, a monthly contributor to Antigravity Magazine providing musings and guidance for other dirt nerds and gardeners. Hot Plants' philosophy is to raise their plant starts with "spartan love" so that the plants may "survive the slings and arrows of the Southeast with relative ease, once they are let into the world." In addition to providing market shoppers with edible, herbal, and medicinal plant startups, Hot Plants nursery also offers tips and advice on how to keep that veggie patch thriving. Hot Plants also operates a small nursery in the Upper Ninth Ward that is open most Sundays from 12-5pm. AND, they will be joining us in December for our Mid-City reopening!
Market Match Limit Lifted!
Unlimited Market Match, Market Umbrella's SNAP incentive program, extended through September 30, 2021!
About Us
Market Umbrella is an independent nonprofit 501(c)(3), based in New Orleans, whose mission is to cultivate the field of public markets for public good. Market Umbrella has operated the Crescent City Farmers Markets (CCFM) since 1995.
The Crescent City Farmers Market operates weekly year-round throughout New Orleans. The CCFM hosts nearly 60 local small farmers, fishers, and food producers, and more than 150,000 shoppers annually.