Market Match Limit Lifted!
Unlimited Market Match, Market Umbrella's SNAP incentive program, extended through June 30, 2021!
Good Food Concepts
Placemaking
the collaborative process by which we can shape our public realm in order to maximize shared value. It happens when we reimagine and reinvent public spaces at the heart of the community, strengthening the connection between places and the people who share them. CCFM's move to the Lafitte Greenway Plaza celebrates placemaking. The newly improved Plaza will not only house the Mid-City Market, but partners NORD and Friends of the Lafitte Greenway are transforming the driveway of the former Brake Tag Station where the Greenway meets Bayou St. John into a vibrant pedestrian plaza. We can look forward to fitness classes during market hours, events, and activities that will lay the foundation for a welcoming public place. CCFM joins the ReFresh Farmers Market and many other businesses who've relocated to the Greenway, and we look forward to meeting the daily and recreational users of the Lafitte Greenway and residents from surrounding neighborhoods at the Market!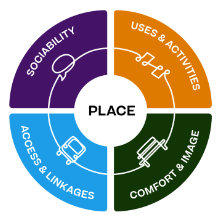 ---
About Us
Market Umbrella is an independent nonprofit 501(c)(3), based in New Orleans, whose mission is to cultivate the field of public markets for public good. Market Umbrella has operated the Crescent City Farmers Markets (CCFM) since 1995.
The Crescent City Farmers Market operates weekly year-round throughout New Orleans. The CCFM hosts nearly 60 local small farmers, fishers, and food producers, and more than 150,000 shoppers annually.