Market Match Limit Lifted!
Unlimited Market Match, Market Umbrella's SNAP incentive program, extended through September 30, 2021!
Recipe
Carrot-Apple Latkes
The holidays are here! And as the Festival of Lights begins, it's time to break out that frying pan and get to making latkes again! Traditionally made with potatoes and fried in oil, latkes celebrate the lasting of the holy light, symbolizing hope. Carrots are in season right now and we're hoping you'll like this savory and slightly sweet carrot and apple latke recipe from Edible Mosaic. Chag Urim Sameach!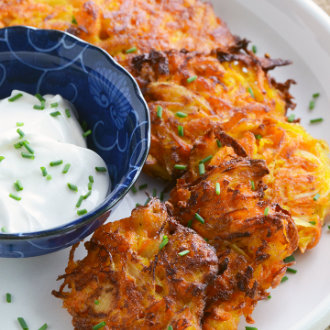 Ingredients
½ medium sweet, crisp apple (such as Fuji), unpeeled, cored, and shredded
2 teaspoons fresh lemon juice
2 medium-large carrots, shredded
1 small onion, thinly sliced into half-moons
2 large cloves garlic, grated
½ teaspoon salt
¼ teaspoon black pepper
¼ teaspoon ground ginger
1 pinch ground cinnamon
2 large eggs, lightly beaten
2 tablespoons all-purpose flour
Oil, for shallow frying
Minced fresh chives, for serving
Sour cream and/or applesauce, for serving
Directions
As soon as you shred the apple, toss it together with the lemon juice in a medium bowl. Stir in the carrot, onion, garlic, salt, black pepper, ginger, and cinnamon, then stir in the egg. Stir in the flour just until incorporated, being careful not to over-mix.
Preheat a large skillet over medium-high heat; add enough oil to generously coat the bottom.
Once the oil is hot, use a 1½ tablespoon scoop to measure the batter into the oil, being careful not to over-crowd the skillet. Cook the latkes until golden on both sides, about 2 to 4 minutes per side, flipping once. (You can adjust the heat down as necessary so the latkes don't cook too quickly.) Transfer the cooked latkes to a paper towel-lined plate to drain excess oil, and cook the rest of the batter the same way. (Using a 1½ tablespoon scoop, you should get about 16 to 18 latkes.)
Serve hot with minced fresh chives sprinkled on top, along with sour cream and/or applesauce.
---
About Us
Market Umbrella is an independent nonprofit 501(c)(3), based in New Orleans, whose mission is to cultivate the field of public markets for public good. Market Umbrella has operated the Crescent City Farmers Markets (CCFM) since 1995.
The Crescent City Farmers Market operates weekly year-round throughout New Orleans. The CCFM hosts nearly 60 local small farmers, fishers, and food producers, and more than 150,000 shoppers annually.