Market Match Limit Lifted!
Unlimited Market Match, Market Umbrella's SNAP incentive program, extended through June 30, 2021!
Good Food Concepts
Holiday Food Traditions
We all know how much Santa loves his milk and cookies. But there are many holiday food traditions taking place all over the world tied to year end holidays like Hanukkah, Kwanzaa, Solstice, and Festivus to name a few. British family members gather on the last Sunday before Christmas to stir fruit pudding while making wishes on their turn. In Mexico, Christmas Eve is celebrated with festive radish carvings, rightly named the Night of the Radish Festival. Sweden's holiday menu includes potato casserole, a great addition to the traditional smorgasbord. Christmas in Sicily and Southern Italy means the Feast of the Seven Fishes. Traditionally, Roman Catholics in the region fast on Christmas Eve, so a feast of seven (or even more) seafood dishes at the end of the day is a true celebration of the area's bounty. With the holiday season in full swing, we are happy to share many more holiday food traditions, the ingredients for many of which you can grab at the market in the coming weeks!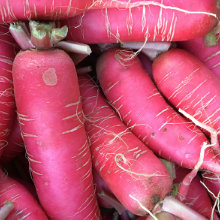 ---
About Us
Market Umbrella is an independent nonprofit 501(c)(3), based in New Orleans, whose mission is to cultivate the field of public markets for public good. Market Umbrella has operated the Crescent City Farmers Markets (CCFM) since 1995.
The Crescent City Farmers Market operates weekly year-round throughout New Orleans. The CCFM hosts nearly 60 local small farmers, fishers, and food producers, and more than 150,000 shoppers annually.