Happy Hollandaise | December 21, 2020
Fresh & Local:
Happy Hollandaise
Tis the season for fresh, local food! No matter what holiday you celebrate, we'd like to wish you a safe and happy holiday season and a peaceful and prosperous New Year!
Today marks the day of the Winter Solstice, marking the symbolic death and rebirth of the Sun. It's time to sow the seeds for new beginnings! We are rolling into holidays with a stellar array of markets, innovations, and food access programming. Whether you prefer shopping in person, driving through, curbside pickup or home delivery, we are here to keep the food moving and our community safe and together, while being apart.
Please join us for one more market before our holiday break! We will be Uptown at the River 8am to noon for on-site shopping and pre-order pick up with the first of the season strawberries and a whole lot of cheer. Market will be closed Thursday, December 24th through Sunday, December 27th so that our vendors can enjoy the holidays.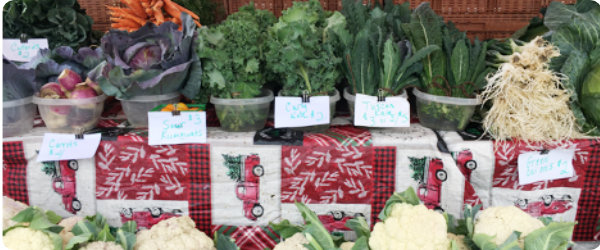 Good Food Concept of the Week:
In addition to running farmers markets, a critical component of Market Umbrella's work is to enhance food and nutrition access and awareness in our community. The Good Food Concept of the Week seeks to shed some light on this part of our work and also to demystify the jargon.
Christmas Pickle

This week's Good Food Concept is Christmas Pickle – To pickle or not to pickle, that is the question! We never miss the chance to marry food and celebrations, so let's talk about ye olde Christmas Pickle. In the tradition, an ornamental pickle is placed on a Christmas tree as one of the decorations. On Christmas morning, the first person to find the pickle on the tree receives an extra present from Santa Claus or is said to have a year of good fortune. There are a number of different origin stories attributed to the tradition, including an origination in Germany - either way, we are here for it! Get your Christmas pickle from Pickled NOLA - an ornament that merges the Christmas pickle tradition with southeast LA seafood folk art!
Picks of the Week:

Unlimited Market Match Continues!

Market Umbrella is pleased to announce the continuation of our unlimited Market Match through March 31, 2020! We know the need is greater than ever, and want to reassure customers that this program, which offers a dollar for dollar match on every EBT dollar spent will continue to be available at all CCFM markets (including when you pre-order for curbside or drive thru), as well as through our partners Refresh Farmers Market and Top Box Foods.
Strawberries

These sweet and juicy ruby red beauties are making their first appearance at the markets! More than just a tasty treat, strawberries are rich in Vitamin C helping to support your immune system and manganese essential to both bone health and boosting your metabolism. Not only that, strawberries are an excellent post-work out snack full of polyphenols that help your muscles recover by reducing pain and inflammation. Charge up, snack on!
It's the season for giving and sharing!

Celebrate by making a gift to support the market you love - the Crescent City Farmers Market! A lot goes on behind the scenes to put the markets together - and your support is needed to keep that going. We are more than just a market, too! Food access programming, like Market Match, and nutrition education are central to the core of our mission to cultivate the field of public markets for public good. For the last 25 years, Market Umbrella has worked to not only provide economic opportunities for food producing small businesses and connect shoppers with the best local food Louisiana has to offer, but to make fresh food more affordable for our community members who need it most. This year, that need is greater than ever. You can help by donating today! Give now by visiting our website or by texting CCFM to 44-321.
Kwanzaa

Kwanzaa is a secular celebration held to honor African American heritage and cultural traditions. Born out of the Civil Rights and Black Power movements of the mid-60s, Kwanzaa is centered around values of unity and kinship. It is typically observed alongside Christmas or other religious holidays. The week-long celebration underscores the importance of community and the strengthening of a cultural identity, culminating in a feast held on December 31st. While Kwanzaa roughly translates to "first fruits of the harvest," the feast is— of course— not limited to fruit! The feast, called Karamu, features Southern staples like sweet potatoes, collards, catfish, and black eyed peas. Food is a wonderful way to celebrate heritage, identity, and family!
Vendor of the Week:

Johndale Farm

Strawberries are back, baby!! That's right. Just in time for the holidays, Heather, the strawberry lady, has returned to markets! Celebrating their 25th anniversary at Crescent City Farmers Market (yep, with us since the beginning), Ponchatoula's Johndale Farm grows various seasonal produce in addition to several strawberry varieties, Camino real (most common), frontier, radiant and festival (the sweetest). Find Heather and these vermilion queen-of-berries at the Tuesday Walk-Up. Whether you pick 'em up by the pint or by the flat (she has half-flats too), you'll be berry glad you did!
Recipes of the Week:

12 Drinks of Christmas

On the first day of Christmas, my true love gave to me… This is New Orleans, y'all. You know how we do it. If your true love is bringing you a Bloody Mary this first day of Christmas then this tune is for you! And, love 'em or hate 'em, it's the holidays. No better time to celebrate or air your grievances with a favorite cocktail or 2 or 3 or 4, depending on what day of Christmas it is. *wink* So grab your ugly sweater, favorite bottle of booze and get to mixin'. Don't forget the decor! From pickles to celery stalks, citrus, strawberries and cold-pressed juices CCFM has your garnish and mixer needs all wrapped up!

What's your favorite dish to make after visiting the Crescent City Farmers Market? Share your recipes with us on Instagram or Facebook or even Twitter and it might be featured in our weekly newsletter!
Market Match Limit Lifted!
Unlimited Market Match, Market Umbrella's SNAP incentive program, extended through September 30, 2021!
About Us
Market Umbrella is an independent nonprofit 501(c)(3), based in New Orleans, whose mission is to cultivate the field of public markets for public good. Market Umbrella has operated the Crescent City Farmers Markets (CCFM) since 1995.
The Crescent City Farmers Market operates weekly year-round throughout New Orleans. The CCFM hosts nearly 60 local small farmers, fishers, and food producers, and more than 150,000 shoppers annually.