Market Match Limit Lifted!
Unlimited Market Match, Market Umbrella's SNAP incentive program, extended through September 30, 2021!
Recipe
Smothered Cabbage
No stranger to New Year's Day menus is the humble cabbage. This versatile veg is great almost any way you slice it but on New Year's Day smothered in most traditional, at least here in the South. Representing good luck and financial prosperity, cabbage perfectly pairs with black-eyed peas and cornbread rounding out your good luck feast. This smothered cabbage recipe from Emeril is simple and straightforward allowing you to get in a little extra couch time on January 1st.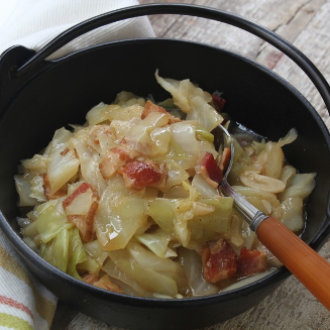 Ingredients
1 tablespoon vegetable oil
3/4 pound bacon, cut into 1-inch pieces
1 pound ham hock
2 cups chopped onions
1/4 teaspoon freshly ground black pepper
1/2 teaspoon salt
1/2 cup sliced garlic
4 pounds cabbage, cleaned and coarsely chopped
1/2 teaspoon Rustic Rub
Directions
Heat the oil in a Dutch oven over high heat. Fry the bacon until crisp. Add the ham hock, onions, pepper, and salt. Cook, stirring often, for 2 to 4 minutes. Add the garlic and cabbage (in batches if necessary, adding more as the previous addition wilts), and cook over medium-high heat, stirring occasionally, until the cabbage is soft and tender, 30 to 45 minutes.
Remove the ham hock. If it has softened enough to pull the meat off, pick the meat off the bones and add the pieces to the pot. Add the rub, stir, and remove from the heat.
Serve immediately.
---
About Us
Market Umbrella is an independent nonprofit 501(c)(3), based in New Orleans, whose mission is to cultivate the field of public markets for public good. Market Umbrella has operated the Crescent City Farmers Markets (CCFM) since 1995.
The Crescent City Farmers Market operates weekly year-round throughout New Orleans. The CCFM hosts nearly 60 local small farmers, fishers, and food producers, and more than 150,000 shoppers annually.