Market Match Limit Lifted!
Unlimited Market Match, Market Umbrella's SNAP incentive program, extended through June 30, 2021!
Good Food Concepts
New Year Food Traditions
Many cultures and countries have particular "lucky" foods, and the southern United States is no exception. Greens, pork, and cornbread, as well as black-eyed peas, cowpeas, or beans, are some of the typical symbolic foods served on New Year's Day. Peas and beans symbolize coins or wealth, while greens resemble money, specifically folding money. Pork is considered a sign of prosperity in some cultures because pigs root forward, the reason many southern New Year's Day dishes contain pork or ham. Add a bit of luck (we all know we need it) to start off 2021 with these Southern Living New Year recipes!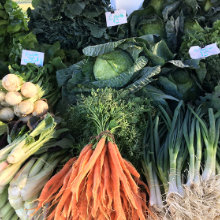 ---
About Us
Market Umbrella is an independent nonprofit 501(c)(3), based in New Orleans, whose mission is to cultivate the field of public markets for public good. Market Umbrella has operated the Crescent City Farmers Markets (CCFM) since 1995.
The Crescent City Farmers Market operates weekly year-round throughout New Orleans. The CCFM hosts nearly 60 local small farmers, fishers, and food producers, and more than 150,000 shoppers annually.