Happy New Year from your friends at the Crescent City Farmers Market! | December 28, 2020
Fresh & Local:
Happy New Year from your friends at the
Crescent City Farmers Market!
The new year is upon us! For many of us, the new year offers the opportunity to reflect and renew or begin healthful self-care habits. The farmers market is a bountiful resource of good-for-you options. Eating local helps to support local economies and producers, strengthening your community and the planet as a whole. Freshly picked produce not only tastes better but it is more nutrient dense, making the farmers market a one-stop shop for new years nourishment. 2021 is all about you - treat yourself, and your vessel, right!
The Tuesday, Uptown Market will be open December 29th from 8am-12pm to help you prepare for your new year feast and will be the last day to find homemade, food related vendor gifts that are sold during December. We will be closed Thursday, December 31st and Friday, December 1st, but will resume markets per usual on Sunday, January 3rd to get off to the right start with healthy eating resolutions, so don't forget to pre-order Wednesday through Friday! As the New Year approaches us with hopes anew, here is to wishing you and your family a wonderful year ahead.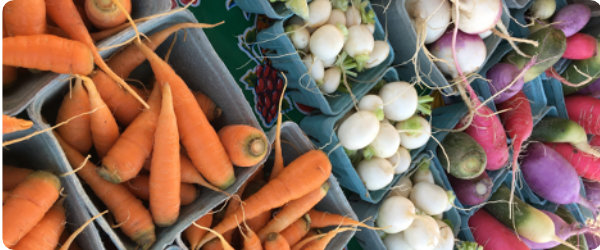 Good Food Concept of the Week:
In addition to running farmers markets, a critical component of Market Umbrella's work is to enhance food and nutrition access and awareness in our community. The Good Food Concept of the Week seeks to shed some light on this part of our work and also to demystify the jargon.
New Year Food Traditions

This week's Good Food Concept is New Year Food Traditions – Many cultures and countries have particular "lucky" foods, and the southern United States is no exception. Greens, pork, and cornbread, as well as black-eyed peas, cowpeas, or beans, are some of the typical symbolic foods served on New Year's Day. Peas and beans symbolize coins or wealth, while greens resemble money, specifically folding money. Pork is considered a sign of prosperity in some cultures because pigs root forward, the reason many southern New Year's Day dishes contain pork or ham. Add a bit of luck (we all know we need it) to start off 2021 with these Southern Living New Year recipes!
Picks of the Week:

Good Luck Cabbage

May the new year bring you peace, love, and happiness! It's a new year in Louisiana so we are going to eat cabbage. For as long as I can remember, my family always feasted on 3 things for various bits of good luck throughout the next year: ham, black eyed peas, and cabbage - cabbage being my favorite. The best way to prepare it is braised with a slab of pork belly and red onions. My husband's family prefers the traditional smothered way, but there is no wrong way! Think outside the box - construct a tangy slaw to rest atop your pork sliders or go the German route and opt for sauerkraut. Whichever way you prefer to cook it you are in luck because you can find this big boy around for months to come. Happy New Year!

- Cristina Berthelot, Market Manager
Romanesco

Romanesco AKA Roman cauliflower or broccoflower, is a strikingly beautiful vegetable which grows in a natural fractal pattern. Crunchier in texture than broccoli, Romanesco has an earthy, nutty flavor in comparison. With a firmness more similar to cauliflower, it holds up to many of the same treatments, including roasting, our favorite preparation for just about anything. The crazily geometric curds - the term used for the sections of a cauliflower, broccoli or Romanesco - retain their shape and color throughout cooking, so they'll look as great on your plate as they do on display at the market.
Keep on Matching!

Unlimited Market Match is extended through March 31, 2021! Market Umbrella will continue offering unlimited dollar-for-dollar Market Match on all EBT purchases for SNAP shoppers to purchase additional fresh fruits and vegetables through the first quarter of 2021. Market Match is available at all CCFM locations, for purchases through Top Box Foods Louisiana, and at SPROUT NOLA's ReFresh Farmers Market.

Programs like Market Match are made possible by the support of generous donors. If you are in a position to give, your help is needed now more than ever. An investment today in Market Umbrella will assist us in doubling the buying power of SNAP shoppers, making the best local food Louisiana has to offer more affordable and accessible for our community members who need it most. Donate by visiting our website or by texting CCFM to 44-321 now - only 4 days left to make your tax-deductible gift for 2020!
Vendor of the Week:

The Other Monicas

Tuesday market regular and anchor produce vendor Monica's Okra World have been with CCFM since our beginnings. Christine and Jess can usually be found under the red tent on Tuesdays but did you know there are more of the Monica clan vending at our markets? Sam Monica and his pa'tner Miranda Wille are regular vendors at the Friday Bucktown market and anchor produce vendor for our newly reopened Mid-City market on Thursdays. Friendly and knowledgeable, their tables are packed with a variety of beautiful produce like tender field greens, cabbage, cauliflower, green onions and whatever else may be in season.
Recipes of the Week:

Smothered Cabbage

No stranger to New Year's Day menus is the humble cabbage. This versatile veg is great almost any way you slice it but on New Year's Day smothered in most traditional, at least here in the South. Representing good luck and financial prosperity, cabbage perfectly pairs with black eyed peas and cornbread rounding out your good luck feast. This smothered cabbage recipe from Emeril is simple and straightforward allowing you to get in a little extra couch time on January 1st.

What's your favorite dish to make after visiting the Crescent City Farmers Market? Share your recipes with us on Instagram or Facebook or even Twitter and it might be featured in our weekly newsletter!
Market Match Limit Lifted!
Unlimited Market Match, Market Umbrella's SNAP incentive program, extended through September 30, 2021!
About Us
Market Umbrella is an independent nonprofit 501(c)(3), based in New Orleans, whose mission is to cultivate the field of public markets for public good. Market Umbrella has operated the Crescent City Farmers Markets (CCFM) since 1995.
The Crescent City Farmers Market operates weekly year-round throughout New Orleans. The CCFM hosts nearly 60 local small farmers, fishers, and food producers, and more than 150,000 shoppers annually.