Market Match Limit Lifted!
Unlimited Market Match, Market Umbrella's SNAP incentive program, extended through June 30, 2021!
Good Food Concepts
Days to Harvest
an agricultural term that refers to the time between planting and when a crop can be harvested. As a shopper, you can see the product at market, but so much is going on leading up to market day. So when we refer to being in between seasons - when variety and volume are lower than usual - farmers are hard at work planting and caring for young plants, and fields are filled with green, just not with mature produce. The amazing radish is a superstar and if conditions are right, can come to maturity in less than a month! When you consider that artichokes or garlic take almost half a year from seed to harvest, and even the brassicas like cabbage or broccoli can take 80-180 days, the radish performs an especially impressive feat.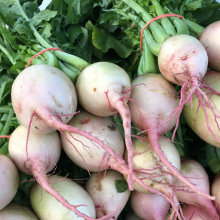 ---
About Us
Market Umbrella is an independent nonprofit 501(c)(3), based in New Orleans, whose mission is to cultivate the field of public markets for public good. Market Umbrella has operated the Crescent City Farmers Markets (CCFM) since 1995.
The Crescent City Farmers Market operates weekly year-round throughout New Orleans. The CCFM hosts nearly 60 local small farmers, fishers, and food producers, and more than 150,000 shoppers annually.