Market Match Limit Lifted!
Unlimited Market Match, Market Umbrella's SNAP incentive program, extended through September 30, 2021!
Recipe
Roasted Radishes
Shared by friend of the market and local chef Anne Churchill. Roasted radishes are a great low carb substitute for potatoes and packed with vitamins and nutrients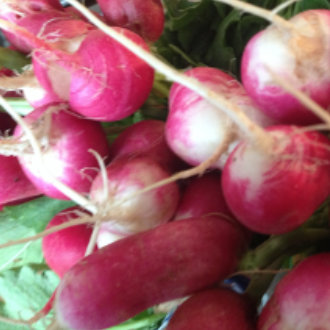 Place pan or cast iron skillet in oven to 400F. Clean and trim the radishes then halve them. Toss in a bowl with good quality oil, just enough to coat. Sprinkle a bit of salt, pepper, garlic powder, and paprika. When the oven is hot, pour radishes into the hot pan or skillet. Check 15 minutes and give them a shake. Continue to check every 10 minutes or so until they begin to brown. Grate a bit of Parmesan of extra flavor. Maybe even grate a bit of fresh garlic over the top as well.
---
About Us
Market Umbrella is an independent nonprofit 501(c)(3), based in New Orleans, whose mission is to cultivate the field of public markets for public good. Market Umbrella has operated the Crescent City Farmers Markets (CCFM) since 1995.
The Crescent City Farmers Market operates weekly year-round throughout New Orleans. The CCFM hosts nearly 60 local small farmers, fishers, and food producers, and more than 150,000 shoppers annually.