Market Match Limit Lifted!
Unlimited Market Match, Market Umbrella's SNAP incentive program, extended through September 30, 2021!
Recipe
Yacon Carrot Soup
Sunday Drive-thru regular Jonathan of Amorphous Gardens, offered up a beautiful selection of carrots and yacón at market this week so this recipe seemed too serendipitous not to share. Ideal for weeknight prep, this quick and easy recipe gains a slight sweetness from the yacón and lends itself to some home-cook riffing. Add additional veg like Bok Choy, thicken it up with a splash of coconut milk, or give it some heat with fresh cayenne.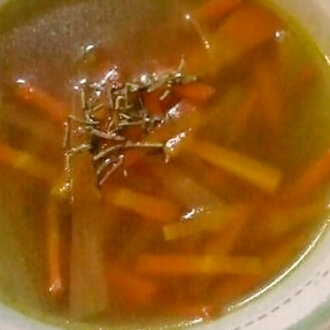 Ingredients
1/2 yacon
1/2 carrot
500 ml water
1 cube instant broth/consomme
1 pinch salt and pepper
1 pinch rosemary
Directions
Peel and slice the yacon. Soak in a bowl of water for a while. Slice the carrot, too.
Put 2 tsp of olive oil into a pot. Add the sliced vegetables and stir well while cooking. Season with salt and pepper.
Add 500 ml water with a cube of instant soup stock. Put the lid on and simmer for about 10 min on medium to low heat.
Get rid of any foam that comes up while cooking. Taste and season if required. Finally, garnish with dried herbs before serving.
---
About Us
Market Umbrella is an independent nonprofit 501(c)(3), based in New Orleans, whose mission is to cultivate the field of public markets for public good. Market Umbrella has operated the Crescent City Farmers Markets (CCFM) since 1995.
The Crescent City Farmers Market operates weekly year-round throughout New Orleans. The CCFM hosts nearly 60 local small farmers, fishers, and food producers, and more than 150,000 shoppers annually.