Don't Go Yacón my Heart | January 25, 2021
Fresh & Local:
Don't Go Yacón my Heart
In case you didn't hear - CCFM is back in Mid-City on Thursdays, in a new location! You can now make your groceries in the fresh air, directly from growers, at the Lafitte Greenway Plaza on Thursdays from 3-7 pm.
Our new space features plenty of space for shoppers and vendors! You will find familiar faces from our previous location at American Can including Screaming Oaks Mushroom Farm, Tomott's Cajun Farm, Indian Springs Farmers Association, and more! Plus, new vendors like Kinoko, Graham's Harvest, and Crescent City Cultures, just to name a few. Everything you want from seafood to veggies and hot prepared food packed for home consumption.
As always, we encourage you to order ahead! Like all CCFM markets, online pre-ordering is open for in-person or contactless curbside pick up. Pre-order for the Thursday market from Monday through Wednesday using WhatsGood.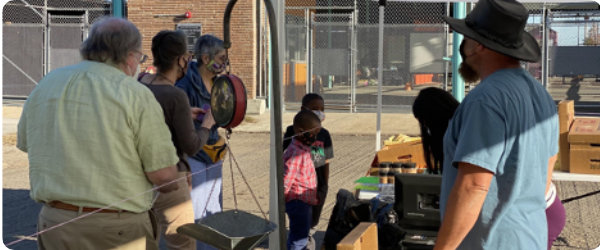 Good Food Concept of the Week:
In addition to running farmers markets, a critical component of Market Umbrella's work is to enhance food and nutrition access and awareness in our community. The Good Food Concept of the Week seeks to shed some light on this part of our work and also to demystify the jargon.
Heirloom

This week's Good Food Concept is Heirloom – Today, produce availability in conventional grocery stores reflects 6% of the foods we ate less than 100 years ago. Heirloom varieties of produce are those types that used to be grown for a variety of reasons, primary among them flavor, but have gone by the wayside as conventional food systems prioritize shippability, shelf stability, and uniformity. If you read recipes or cooking magazines, you'll often find directions to source these now less common varieties at the farmers market - and it's good advice! Discover something unconventional and stock up on heirloom carrots, cauliflower, radish, peppers, squash, wild lemons, herbs, etcetera at any Crescent City Farmers Market.
Picks of the Week:

Strawberry Fields Forever

Cold weather might have gotten us off to a bumpy start to the season, but these sweet and juicy ruby red beauties are out from under warm, protective coverings and going strong! More than just a tasty treat, strawberries are rich in Vitamin C to support your immune system and manganese essential to both bone health and boosting your metabolism. Dr. Sanjay Gupta recommends berries for brain health. Strawberries are available at the Uptown, Mid-City, and Parkway markets and CCFM home delivery boxes by the likes of Johndale's Farm, Faust Farms, and more!
COVID Safety

Crescent City Farmers Markets operate in accordance with the Center for Disease Control's guidelines on outdoor markets and NOLA Ready COVID guidelines. Our walk-up markets feature fresh air and sunlight, as well as many safety practices, now ingrained amongst our staff and vendors. Our markets require masking by all and have new layouts that increase space between vendors and allow for spacing between customers in lines. We limit crowd sizes within the market space and have introduced many other COVID adaptations to ensure customers, vendors, and staff are as safe as possible.

We will continue to offer contactless options like home delivery through partner Top Box Foods and the Sunday pre-order contactless drive thru market. We also now offer pre-order curbside pickup at our Tuesday, Thursday and Friday walk-up markets so you can pull up to market, and we'll bring your entire order to you.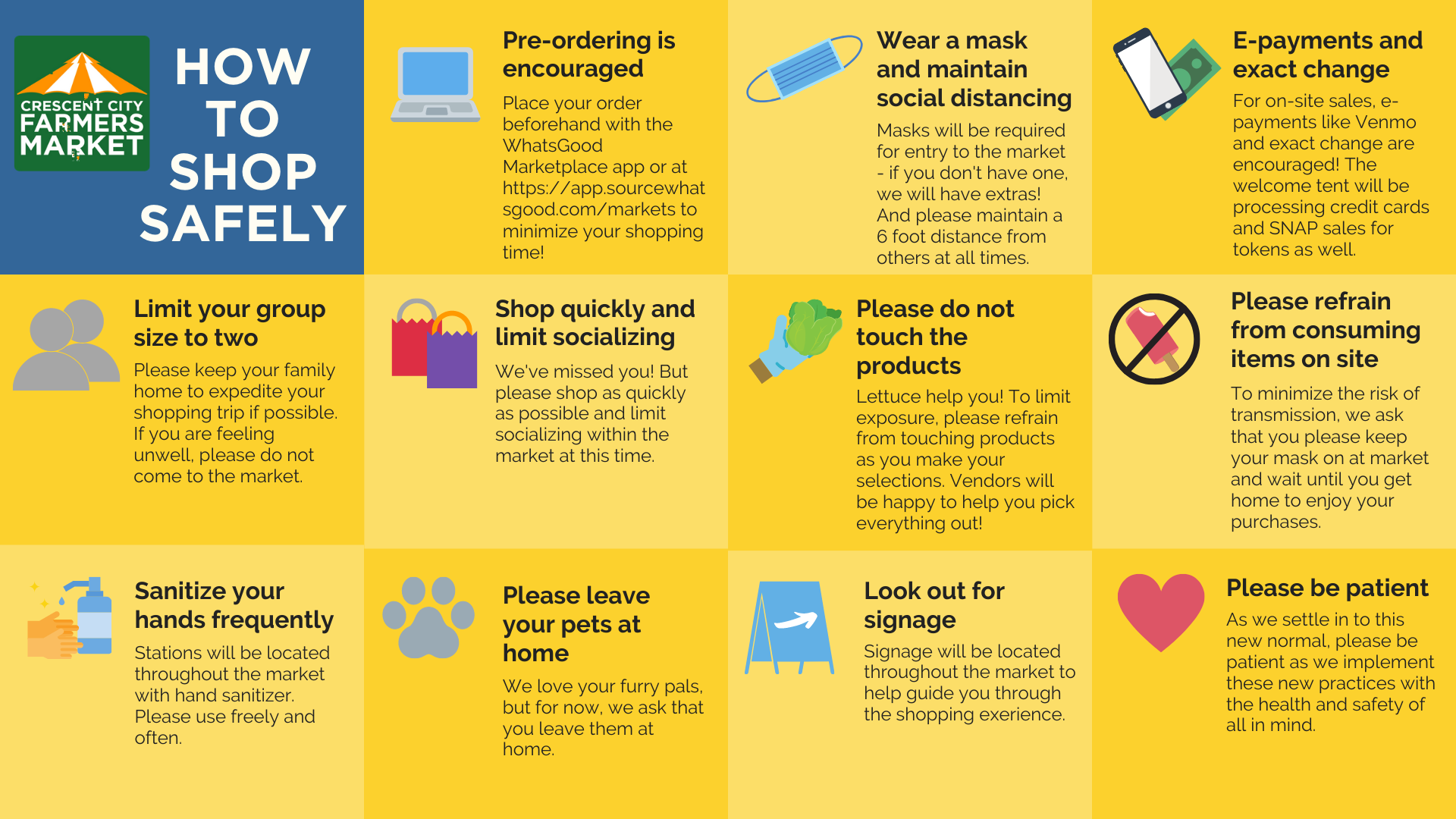 Even More Ways to Use SNAP

Now extended through March 2021, Market Umbrella will continue offering unlimited dollar-for-dollar Market Match for SNAP shoppers to purchase fresh fruits and vegetables. Additionally, thanks to a $500,000 USDA Gus Schumacher Nutrition Incentive Program (GusNIP) award, Market Umbrella will expand Market Match beyond all CCFM market locations to also be available at:

Top Box Foods - on ALL SNAP eligible purchases, plus free home delivery
ReFresh Farmers Market on Monday evenings on the Lafitte Greenway
Grow Dat Youth Farm for 50% off seasonal CSA subscriptions
River Queen Greens for half price farm shares
Stay tuned for new nutrition classes and programs supporting Market Match at Tulane's Goldring Center for Culinary Medicine
Love Your City Awards

LifeCity is the New Orleans impact management group that works to help organizations improve the environment, support greater equity, and achieve goals that line up with community priorities. On January 28th, they'll hold their ninth annual Love Your City Awards Gala, and Market Umbrella has been nominated for recognition in the Healthy Food and Local Culture categories! Please join us at 6:30pm for a virtual event featuring live music from New Orleans bands and vote for us as a fan favorite - only attendees will have the opportunity to vote. This year, ticket proceeds will go to supporting local artists, Black-owned New Orleans restaurants, and feeding families in need. Join us for fun and celebration, and kick 2021 off right!
Dig It

Oh, earth apples! No, this isn't an euphemism your grandmother would use when she was upset. Actually, it's another name for the South American tuberous root, yacón. Akin to the Gerber daisy family, yacón is crunchy, juicy, and a little bit sweet, similar to an apple. Traditionally cooked down into a syrup and used as a sugar substitute in muffins and cakes, this low-glycemic root can also be consumed fresh as a quick, easy snack for the kiddos or add it to your favorite salad for some additional crunch, like jicama. Toss it in your next veggie stir fry for a texture similar to water chestnuts or add it alongside other root veg, like sweet potatoes, and roast it up. Hungry for more? Check out the Recipe of the Week for another cool culinary creation!
Vendor of the Week:

Kinoko

Did you say vegan sushi? It might seem like an oxymoron but Thursday market vendor, Kinoko, is offering up a delightful array of sushi options using plant-based ingredients like enoki mushrooms (sourced from our friends at Mycelium Express) and jackfruit. Kelseay Reed has been rolled up in the world of sushi since age 14, working in sushi restaurants from New York City to California and even dedicating a whole year to learn about rice! This Master Chef alum, started her sushi pop ups in NYC and then recognized the New Orleans vegan sushi niche and made her move down South. Kinoko is more than just sushi, though, collaborating with her mom to make an authentic vegan gumbo recipe to add to her selections because well, it is New Orleans.
Recipes of the Week:

Yacón Carrot Soup

Sunday Drive thru regular Jonathan of Amorphous Gardens, offered up a beautiful selection of carrots and yacón at market this week so this recipe seemed too serendipitous not to share. Ideal for weeknight prep, this quick and easy recipe gains a slight sweetness from the yacón and lends itself to some home-cook riffing. Add additional veg like Bok Choy, thicken it up with a splash of coconut milk, or give it some heat with fresh cayenne.

What's your favorite dish to make after visiting the Crescent City Farmers Market? Share your recipes with us on Instagram or Facebook or even Twitter and it might be featured in our weekly newsletter!
Market Match Limit Lifted!
Unlimited Market Match, Market Umbrella's SNAP incentive program, extended through September 30, 2021!
About Us
Market Umbrella is an independent nonprofit 501(c)(3), based in New Orleans, whose mission is to cultivate the field of public markets for public good. Market Umbrella has operated the Crescent City Farmers Markets (CCFM) since 1995.
The Crescent City Farmers Market operates weekly year-round throughout New Orleans. The CCFM hosts nearly 60 local small farmers, fishers, and food producers, and more than 150,000 shoppers annually.