Market Match Limit Lifted!
Unlimited Market Match, Market Umbrella's SNAP incentive program, extended through June 30, 2021!
Good Food Concepts
Heirloom
Today, produce availability in conventional grocery stores reflects 6% of the foods we ate less than 100 years ago. Heirloom varieties of produce are those types that used to be grown for a variety of reasons, primary among them flavor, but have gone by the wayside as conventional food systems prioritize shippability, shelf stability, and uniformity. If you read recipes or cooking magazines, you'll often find directions to source these now less common varieties at the farmers market - and it's good advice! Discover something unconventional and stock up on heirloom carrots, cauliflower, radish, peppers, squash, wild lemons, herbs, etcetera at any Crescent City Farmers Market.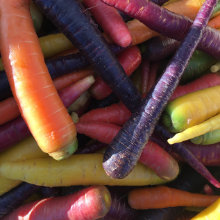 ---
About Us
Market Umbrella is an independent nonprofit 501(c)(3), based in New Orleans, whose mission is to cultivate the field of public markets for public good. Market Umbrella has operated the Crescent City Farmers Markets (CCFM) since 1995.
The Crescent City Farmers Market operates weekly year-round throughout New Orleans. The CCFM hosts nearly 60 local small farmers, fishers, and food producers, and more than 150,000 shoppers annually.