Market Match Limit Lifted!
Unlimited Market Match, Market Umbrella's SNAP incentive program, extended through June 30, 2021!
Recipe
Beet Muhammara
You just can't beat a beet. Hands down one of the most versatile and nutritionally dense foods you can get your teeth in. Whether raw or roasted, juiced or noodlized, this radiant root lends itself to many culinary applications. Here's an interesting twist on a Syrian dip, muhummara, from Food and Wine substituting beets for the traditional roasted red pepper to jazz up your Super Bowl snack selection.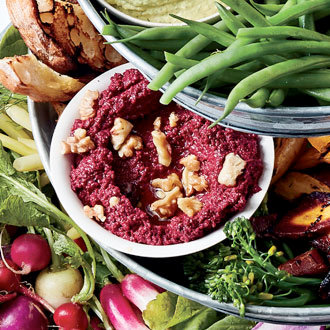 Ingredients
1 1/2 teaspoons ground cumin
1 large red beet, peeled and chopped
3/4 cup chopped toasted walnuts, plus more for garnish
3 tablespoons fresh lemon juice
1 tablespoon pomegranate molasses
1 garlic clove
1 1/4 teaspoons Urfa biber (see Note), plus more for garnish
1/4 cup extra-virgin olive oil
Kosher salt
Directions
In a small skillet, toast the cumin over moderately high heat until fragrant, 1 minute. Transfer to a food processor. Add the beet, 3/4 cup of walnuts, lemon juice, pomegranate molasses, garlic and the 1 1/4 teaspoons of Urfa. Pulse to finely chop. With the machine on, drizzle in the olive oil until the dip is almost smooth. Season with salt. Transfer to a small bowl and garnish with more walnuts and Urfa.
---
About Us
Market Umbrella is an independent nonprofit 501(c)(3), based in New Orleans, whose mission is to cultivate the field of public markets for public good. Market Umbrella has operated the Crescent City Farmers Markets (CCFM) since 1995.
The Crescent City Farmers Market operates weekly year-round throughout New Orleans. The CCFM hosts nearly 60 local small farmers, fishers, and food producers, and more than 150,000 shoppers annually.