Market Umbrella Welcomes New Executive Director Cordelia Heaney | February 1, 2021
Fresh & Local:
Market Umbrella Welcomes
New Executive Director Cordelia Heaney
At a time when our community and country are grappling with the reverberations of COVID-19, a volatile economic outlook, and the ever-present manifestations of longstanding racial inequality, it can be difficult to see a path forward. This is a moment where focusing on what makes our New Orleans community unique and valuable and the positive impact of embracing diverse identities and shared cultural values becomes an opportunity to find solace, purpose, and hope.
Food is at the very heart of our region's cultural heritage, and Market Umbrella's mission of cultivating public markets for public good is an investment in the shared values of our cuisine's cultural significance and its physical representation of the interconnected nature of our lives together here in South Louisiana. We are a non-profit that serves three crucial functions: providing accessibility of the high-quality, local foods we use to nourish our families and friends; supporting local small businesses and our regional economy; and ensuring access to healthy local foods through an array of community based initiatives. For the last 25 years, and especially throughout the pandemic, we have and will continue to adapt and rise to the occasion where these three functions intersect. In the last year we have reduced barriers to food access by expanding our service partners, raising more money for food subsidies, and reducing barriers to accessing markets safely by innovating new low- and no-contact shopping options. We are committed to serving our city as a part of its cultural heritage.
As my first day as Executive Director comes to a close, I am honored to have the opportunity to lead this exceptional organization; to bring my background in economic justice and gender equity work, non-profit management, and public policy and community engagement experience to the essential work of Market Umbrella; and to be joining a team of dedicated and passionate staff and board members. I look forward to getting to know our supporters and hearing your ideas about how Market Umbrella can continue to best embody its mission of cultivating public markets for public good; we do this work with you and for you - and for this community that we all love so much. My door is open to you, and you can email me any time at cordelia@marketumbrella.org.
Wishing you all a 2021 full of promise, possibility, and strawberries,
Cordelia Heaney
Executive Director, Market Umbrella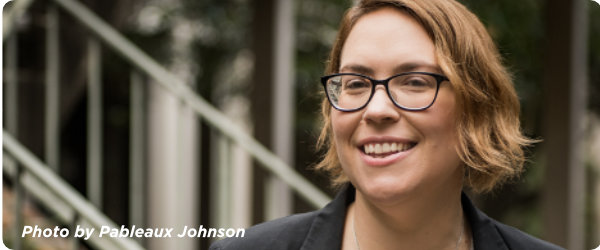 Good Food Concept of the Week:
In addition to running farmers markets, a critical component of Market Umbrella's work is to enhance food and nutrition access and awareness in our community. The Good Food Concept of the Week seeks to shed some light on this part of our work and also to demystify the jargon.
Certified Organic

This week's Good Food Concept is Certified Organic – According to the United States Department of Agriculture (USDA), Certified Organic foods are grown and processed according to federal guidelines addressing, among many factors, soil quality, animal raising practices, pest and weed control, and use of additives. Organic certification requires that farmers and handlers document their processes and get inspected every year.

Meaning, in order to claim a product as "organic," a farm/product must undergo organic certification. Organic Certification is no easy feat - it takes several years and a lot of money to accomplish - it's more expensive in Louisiana because unlike other states, there is no certifier within the state, so one must be hired from further away. Quite big apples compared to the small-scale farming of most of our producers. There are actually only a handful of Certified Organic farms in Louisiana.

That being said, Crescent City Farmers Market is elated to host two USDA Certified Organic vendors - L'hoste Citrus Farm and Blue Tara Blueberry Farm.
Picks of the Week:

DSNAP

In a January 27th press release, the Department of Child and Family Services (DCFS) announced that as a result of hurricane Zeta, impacted residents of Jefferson, Lafourche, Orleans, Plaquemines, St. Bernard and Terrebonne parishes would be eligible for Disaster SNAP. DSNAP provides food assistance to eligible households who need help buying groceries due to lost income or damages following a disaster. SNAP recipients who began receiving benefits after November of 2020 may be eligible for DSNAP for Hurricane Zeta. SNAP recipients receiving benefits prior to November 2020 are not eligible, those additional benefits to replace food loss have already been awarded.

Due to ongoing concerns related to the coronavirus pandemic, DSNAP applications will be handled by phone and benefits cards will be mailed to approved applicants. Residents in the approved parishes will be assigned a day to call the LAHelpU Customer Service Center, 1-888-524-3578, to apply and be interviewed for DSNAP. The application process is short and runs from today Monday, February 1st through this Sunday, the 7th. Find out more about the application process here, and don't forget, Market Umbrella's Market Match program will double all SNAP dollars spent at any of our markets (including online pre-orders), and at our partners Top Box Foods, ReFresh Farmers Market, Grow Dat Youth Farm and River Queen Greens.
Laissez Les Bons Temps Rouler

All dressed up and nowhere to go? Head over to the Tuesday Uptown market! The floats may not be rolling, but the fresh local food is. Join us from 8-12pm on Tuesday, February 16th for our first ever Mardi Gras market! Remember to order ahead of time using WhatsGood and keep your shopping trip short and sweet. We'll be hosting a special market King Cake round up, so make sure to come by and take advantage of the last chance for King Cakes this season!
Get Your Orders In!

CCFM & Market Momma's Club home delivery boxes are taking a bye week! Top Box Foods will be closed on Mardi Gras so order before Friday at 5 pm for next week delivery on Tuesday, February 9th to hold you over! Utilize the drive-thru and curbside pick-up for more contactless shopping experiences.
Vendor of the Week:

Pickled NOLA

Oh, do you know the Pickle Man, the Pickle Man, the Pickle Man? Oh, yes! We know the Pickle Man! Who doesn't love a good pickle, cucumber or otherwise? Crunchy and tangy, pickles are a welcomed addition to almost any sandwich, crudite tray or cocktail glass. Jeremy Oatis, educator, Mardi Gras Indian and avid pickler is the mastermind behind Pickled NOLA. Offering up a variety of pickled veg reflective of the season and sourced locally, whether it's a traditional dill cucumber pickle, pickled green beans, or staff fav, pickled garlic, Pickled NOLA has all your pickle bases covered. Check out what's in pickle season right now at the Sunday Drive Thru market.
Recipes of the Week:

Beet Muhummara

You just can't beat a beet. Hands down one of the most versatile and nutritionally dense foods you can get your teeth in. Whether raw or roasted, juiced or noodlized, this radiant root lends itself to many culinary applications. Here's an interesting twist on a Syrian dip, muhummara, from Food and Wine substituting beets for the traditional roasted red pepper to jazz up your Super Bowl snack selection.

What's your favorite dish to make after visiting the Crescent City Farmers Market? Share your recipes with us on Instagram or Facebook or even Twitter and it might be featured in our weekly newsletter!
Market Match Limit Lifted!
Unlimited Market Match, Market Umbrella's SNAP incentive program, extended through June 30, 2021!
About Us
Market Umbrella is an independent nonprofit 501(c)(3), based in New Orleans, whose mission is to cultivate the field of public markets for public good. Market Umbrella has operated the Crescent City Farmers Markets (CCFM) since 1995.
The Crescent City Farmers Market operates weekly year-round throughout New Orleans. The CCFM hosts nearly 60 local small farmers, fishers, and food producers, and more than 150,000 shoppers annually.