Market Match Limit Lifted!
Unlimited Market Match, Market Umbrella's SNAP incentive program, extended through June 30, 2021!
Recipe
Rutabaga Pasta
What started as a trend is now a veggie staple. Spiralized veggie noodles are a unique alternative to the traditional noodle bringing a little extra nutrition to the plate. Common veggies like carrots and zucchini get all the glory but you can pretty much "noodle" any firm veg and rutabaga is one you've got to try. Check out this recipe for pasta cacio e pepe from Epicurious, using ribbons of rutabaga in a rich beurre blanc sauce. Simple and delicious! Buon appetito!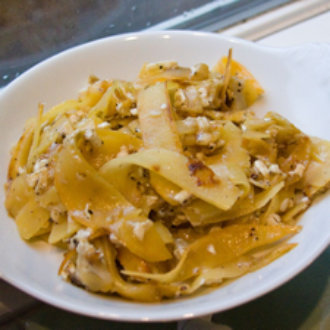 Ingredients
1 piece Rutabaga, large, peeled
9 tablespoons Cold butter, divided
1/4 cup Shallot, finely minced
10 Peppercorns
1/4 cup Dry white wine
1/4 cup Heavy cream
1/2 teaspoon Kosher salt
1 cup Pecorino or Parmigiano, grated
1/4 cup Fresh chives
Directions
Prepare rutabaga: Shave peeled rutabaga with mandoline or vegetable peeler. Stack and cut pieces into noodle-like strips.
Make buerre blanc: Cut 8 T. butter into pieces and reserve in cool place. Heat remaining 1 T butter in saucepan; stir in shallots and peppercorns. Cook about 1 minute or until aromatic but not brown. Add wine and cook until reduced to 2 T. Add cream and salt and reduce again. One piece at a time, whisk in butter and cooking just until shiny and thick. Strain through sieve and return to saucepan big enough to hold noodles and sauce.
Bring a pot of water to boil. Do not salt water. Add rutabaga noodles and cook for 3 minutes or just until not raw tasting. Strain and pour into saucepan with buerre blanc.
Over low heat, toss until well combined. Off heat, add some of the cheese and toss again.
Serve sprinkled with chives, and more grated cheese to pass.
---
About Us
Market Umbrella is an independent nonprofit 501(c)(3), based in New Orleans, whose mission is to cultivate the field of public markets for public good. Market Umbrella has operated the Crescent City Farmers Markets (CCFM) since 1995.
The Crescent City Farmers Market operates weekly year-round throughout New Orleans. The CCFM hosts nearly 60 local small farmers, fishers, and food producers, and more than 150,000 shoppers annually.