Laissez Les Bons Temps Rouler Thru | February 8, 2021
Fresh & Local:
Laissez Les Bons Temps Rouler Thru
Roll on through our Sunday drive-thru market now at City Park! Starting this Sunday, February 14th, you can pick up your weekly groceries at the Tad Gormley Stadium from 8am to 12pm - enter on Marconi at Navarre. As always, the drive thru is 100% pre-order and contactless! It'll be Valentine's Day, so get some chocolate covered strawberries or a fresh flower bouquet for your boo - the perfect way to say "olive you!".
Happy Mardi Gras y'all! All dressed up and nowhere to go? Head over to the Tuesday Uptown market! The floats may not be rolling, but the fresh local food is. Join us from 8-noon on Tuesday, February 16th for our first (and hopefully last) Mardi Gras market! Remember to order ahead of time using WhatsGood and keep your shopping trip short and sweet. Make sure to come by and take advantage of the last chance for King Cakes this season!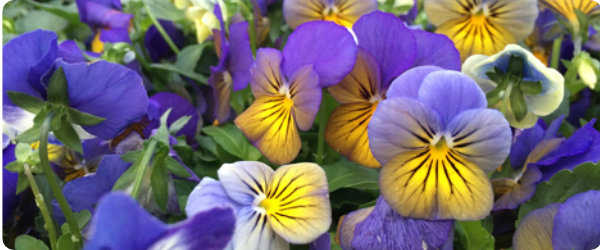 Good Food Concept of the Week:
In addition to running farmers markets, a critical component of Market Umbrella's work is to enhance food and nutrition access and awareness in our community. The Good Food Concept of the Week seeks to shed some light on this part of our work and also to demystify the jargon.
Certified Naturally Grown

This week's Good Food Concept is Certified Naturally Grown – Crescent City Farmers Market features several Certified Naturally Grown (CNG) growers - River Queen Greens, Grow Dat Youth Farm, and Too Tall Farm. CNG farmers don't use any synthetic herbicides, pesticides, fertilizers, or genetically modified organisms. CNG livestock are raised mostly on pasture and with space for freedom of movement. Feed must be grown without synthetic inputs or genetically modified seeds.

CNG is tailored for direct-market farmers producing food for their local communities. CNG's certification approach relies on peer reviews in which inspections are typically carried out by other certified farmers, promoting farmer-to-farmer knowledge sharing about best practices and fosters local networks that strengthen the farming community. This model minimizes paperwork and keeps certification dues affordable. You can learn more here https://www.cngfarming.org/
Picks of the Week:

Celebrate Black History Month

We feel it is important to recognize, celebrate and support the black farmers and food producers of CCFM. Almost a century ago, black farmers made up 14% of America's farmers. Today, they account for less than 2%. Historically, black farmers have been denied rights to access land, to resources, and to fair markets in which to sell their products. In 1999, class action lawsuit Pigford v Glickman acknowledged systematic, discriminatory practices used by the USDA against black farmers and they were ordered to pay out over $1 billion to African-American farmers; making it the largest civil rights settlement in history.

The Crescent City Farmers Market is proud to support over 35 black-owned food businesses. Ben Burkett, Terrance Travis, and Byron Travis regularly represent the Indian Springs Farmers Association which has 30 minority grower members in and around Petal, Mississippi. Pickled Nola is picked, packed, and pickled by Jeremy Oatis right here in New Orleans, Louisiana. Pointe Coupee Minority Growers Cooperative from Batchelor, Louisiana has five minority growers including Lester Williams and Bruce Harrel. Slinger of sprouts and salads, Mike Beauchamp with Know Dat Grow Dat is our featured vendor of the week. CCFM supports black farmers and businesses; use your dollars to do the same at market this month, and every month.
Top Box Closed for Mardi Gras

Heads up! Top Box Foods will be closed for Mardi Gras next week so our CCFM & Market Momma's Club home delivery boxes are taking a bye week! In the meantime, utilize the drive-thru and curbside pick-up for more contactless shopping experiences.
Vendor of the Week:

Know Dat Grow Dat

Know Dat Grow Dat, understands good health sprouts from what we put on our plate. Mike Beauchamp, a retired pharmacist, believes people can reduce disease and live longer, healthier lives through food. Specializing in microgreens, Mr. Mike uses organic techniques to cultivate nutrient-dense sprouts with aromatic flavors, making for a perfect topper to sandwich, salad and well, just about anything else! You can find Know Dat Grow Dat offering microgreens and sprouts at our Thursday Mid-City market at the Lafitte Greenway Plaza and Sunday Drive Thru. More than microgreens, Mr. Mike is a talented saxophonist and musicophile enjoying cultivating community around healthful eating.
Recipes of the Week:

Rutabaga Pasta

What started as a trend is now a veggie staple. Spiralized veggie noodles are a unique alternative to the traditional noodle bringing a little extra nutrition to the plate. Common veggies like carrots and zucchini get all the glory but you can pretty much "noodle" any firm veg and rutabaga is one you've got to try. Check out this recipe for pasta cacio e pepe from Epicurious, using ribbons of rutabaga in a rich beurre blanc sauce. Simple and delicious! Buon appetito!

What's your favorite dish to make after visiting the Crescent City Farmers Market? Share your recipes with us on Instagram or Facebook or even Twitter and it might be featured in our weekly newsletter!
Market Match Limit Lifted!
Unlimited Market Match, Market Umbrella's SNAP incentive program, extended through June 30, 2021!
About Us
Market Umbrella is an independent nonprofit 501(c)(3), based in New Orleans, whose mission is to cultivate the field of public markets for public good. Market Umbrella has operated the Crescent City Farmers Markets (CCFM) since 1995.
The Crescent City Farmers Market operates weekly year-round throughout New Orleans. The CCFM hosts nearly 60 local small farmers, fishers, and food producers, and more than 150,000 shoppers annually.