The Crescent City Farmers Market is Open for Mardi Gras | February 15, 2021
Fresh & Local:
The Crescent City Farmers Market is Open for Mardi Gras
Went on down to the Crescent City Farmers Market and they all asked for YOU. Happy Mardi Gras Y'all! The floats may not be rolling, but the fresh local food is. Join us from 8 am - noon on Tuesday, February 16th for our first (and hopefully last!) Mardi Gras market. Get the fridge stocked with local goods just in time for lent! Remember to order ahead of time using WhatsGood and keep your shopping trip short and sweet. New baker Bread & Roses will have the last of the season's king cakes available for pre-order only! King cakes will be available for pickup at the welcome tent or curbside pickup.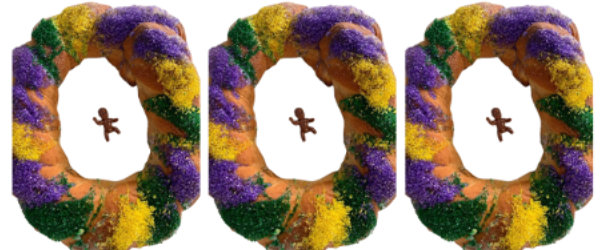 Picks of the Week:
Drive Thru at City Park
You can now pick up your weekly groceries at City Park! The weekend drive-thru market is now located at the Tad Gormley Stadium from 8am to 12pm - enter on Marconi at Navarre. As always, the drive thru is 100% pre-order and contactless! Order ahead using WhatsGood. New to drive-thru? WhatsGood is sponsoring 50% off new customer orders for the entire month of February. This promotion is open to NEW CUSTOMERS ONLY!
Duck Eggs

Rich in antioxidants, filled with essential vitamins and minerals, and with a deliciously fatty (and big!) yolk--it's no doubt that duck eggs are the way to go in the new year. Duck eggs are a protein-packed snack you can enjoy with toast, over rice, or with a plain and simple hard boil. Snag a carton at the market through Tomott's Cajun Farm and from Silly Dilly Animal Sanctuary via the VEGGI Farm Co-op!
Parkway Bakery & Tavern

Big thanks to Parkway Bakery and Tavern who has graciously provided us space to hold our original Drive Thru Market since the start of the pandemic. The Crescent City Farmers Market could not have made it through without the generosity and patience of the Parkway team. Their commitment to the city of New Orleans and local food knows no bounds. We're still neighbors on Thursdays so come on down and enjoy a Parkway poboy and get your groceries at the CCFM Mid-City market!
Vendor of the Week:

Terrence Travis

It's a family affair. Terrence Travis, nephew to Mr. Byron (Travis), proud papa and Indian Springs Farmers Association member is usually a regular vendor at markets but during the pandemic has turned his focus from selling at markets to aggregating for co-op members and making multiple deliveries to the New Orleans area every week. When you order the CCFM home delivery box, you're likely getting something from Terrance, or you can find his produce at the SPROUT NOLA Truck Farm table on Sundays!
Recipes of the Week:

Easy Strawberry Cookies

Strawberry season is in full effect, y'all! And we see you, low-key hoarding those half-flats each week. We know this queen of berries is especially delicious fresh and straight from the pint and transformed into ruby-hued jam but here in the height of strawberry season you might be hankering for a new berry good recipe. Keeping it simple and streamlined, An Italian in My Kitchen offers up this easy strawberry cookie recipe. So simple, in fact, the kiddos could give it a whirl the week whilst they're home on Mardi Gras break!

What's your favorite dish to make after visiting the Crescent City Farmers Market? Share your recipes with us on Instagram or Facebook or even Twitter and it might be featured in our weekly newsletter!
Market Match Limit Lifted!
Unlimited Market Match, Market Umbrella's SNAP incentive program, extended through June 30, 2021!
About Us
Market Umbrella is an independent nonprofit 501(c)(3), based in New Orleans, whose mission is to cultivate the field of public markets for public good. Market Umbrella has operated the Crescent City Farmers Markets (CCFM) since 1995.
The Crescent City Farmers Market operates weekly year-round throughout New Orleans. The CCFM hosts nearly 60 local small farmers, fishers, and food producers, and more than 150,000 shoppers annually.