Market Match Limit Lifted!
Unlimited Market Match, Market Umbrella's SNAP incentive program, extended through June 30, 2021!
Recipe
Curried Tofu Salad
Everyone loves a versatile dip and sandwich spread - I love this one from Budget Bytes author and LSU alum Beth Moncel that uses tofu as a star ingredient and comes together in just ten minutes!
– Cordelia Heaney, Executive Director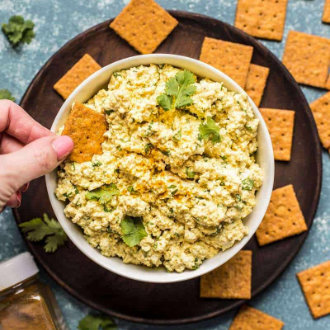 Ingredients
1/4 cup mayonnaise
1/4 cup plain Greek yogurt
1 tsp lemon juice
1 tsp Dijon mustard
1 tsp honey
1/2 Tbsp curry powder
1/2 tsp salt
1/4 cup chopped cilantro
14 oz. extra firm tofu
Directions
Remove the tofu from its package and allow it to drain in a colander as you prepare the dressing. In a medium bowl, stir together the mayonnaise, yogurt, lemon juice, Dijon mustard, honey, curry powder, salt, and chopped cilantro.
Crumble the drained tofu into the bowl with the dressing, then stir to combine. Serve immediately, or refrigerate until you're ready to eat.
---
About Us
Market Umbrella is an independent nonprofit 501(c)(3), based in New Orleans, whose mission is to cultivate the field of public markets for public good. Market Umbrella has operated the Crescent City Farmers Markets (CCFM) since 1995.
The Crescent City Farmers Market operates weekly year-round throughout New Orleans. The CCFM hosts nearly 60 local small farmers, fishers, and food producers, and more than 150,000 shoppers annually.