Go Local for Lent | February 22, 2021
Fresh & Local:
Go Local for Lent
Most Louisianians agree that Mardi Gras is the most magical time of the year. They are wrong... The best time of year is the forty days that follow, when we have the best excuse to pinch some tails. With Mardi Gras behind us and Lent in full swing, it's time to dive into Friday fish fries and seafood boils and double down on the tofu.
When eating seafood, make sure you're eating straight from the gulf and our surrounding lakes, rivers, and bayous by shopping from our Crescent City Farmers Market water masters. We are currently buoying in the slow season so availability is not optimal, but you can find Pete and Clara's Seafood at the Uptown and Mid-City markets as well as Des Allemands Outlaw Katfish at the Uptown market with catfish, drum, crab, and more.
Going totally meatless? Tofu and mushrooms are a great option for carnivores, vegans, and everyone in between! Find VEGGI Farmers Cooperative at the Uptown, Mid-City, and City Park markets every week for your locally made tofu. Additionally, Screaming Oaks Mushroom Farm and Mycelium Express have your fungi needs covered at all weekly markets.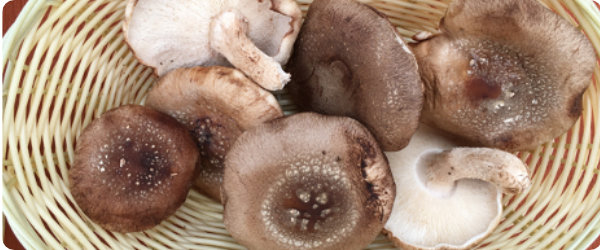 Picks of the Week:

New Market Umbrella Executive Director
profiled by Gambit Weekly

Gambit Weekly food and drink journalist Will Coviello profiled new Market Umbrella Executive Director Cordelia Heaney in this week's Gambit magazine. Check out their discussion, which included the importance of having our first market on NORD public property at the new Lafitte Greenway Plaza as well as the importance of our expanded Market Match program to ensure more New Orleanians have access to fresh local foods.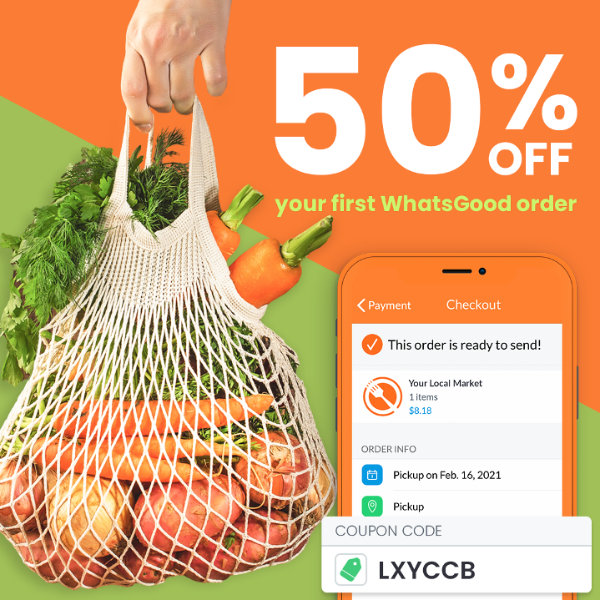 Calling all Volunteers
Farmers, fishers, and food producers? Check! Local produce, seafood, meat, dairy, honey, plants, and artisan goods? Check! Online marketplace and four weekly markets? Check! Volunteers? We need you! Please lend 2-4 hours of your time by helping us create a resilient food system and connecting farmers to the community while keeping everyone safe. Rest assured, all CCFM staff and vendors are wearing facial covering, practicing frequent hand washing/sanitation, and observing 6ft social distancing. We ask that all volunteers do the same.
Check out our calendar of available volunteer opportunities and sign up for a spot directly through SignUp. Check back often as we use this calendar to post volunteer opportunities with drive thru markets and more!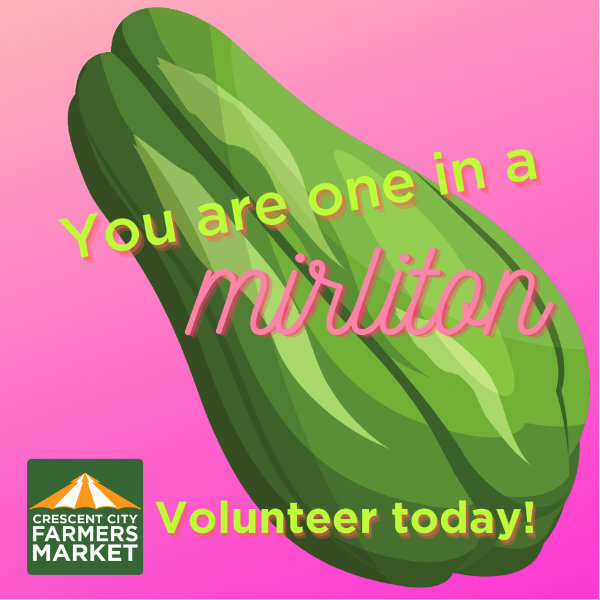 Drive-Thru City Park Style

You can now pick up your weekly groceries at City Park! The weekend drive-thru market is now located at the Tad Gormley Stadium from 8am to 12pm - enter on Marconi at Navarre. As always, the drive thru is 100% pre-order and contactless! Order ahead using WhatsGood. New to drive-thru? WhatsGood is sponsoring 50% off new customer orders for the entire month of February. Use code: LXYCCB - This promotion is open to NEW CUSTOMERS ONLY!
Vendor of the Week:

Williams Produce

We're so happy that Lester of Williams Produce and founder of Pointe Coupee Minority Farmers Cooperative has become a regular fixture in our CCFM and Market Momma boxes. Lester has been gardening since he's been old enough to know how, but has been specializing in commercial farming since 2002. He started by growing food for his mother when she had health concerns that required a wholesome diet that he couldn't find at his local grocery stores. He grew purple hulled peas, butter beans, mustards, collards, turnips, and okra. His mother shared with her friends and community of the older generation, and soon Lester's produce became so popular that he decided to expand his operation.
Recipes of the Week:

Curried Tofu Salad

Everyone loves a versatile dip and sandwich spread - I love this one from Budget Bytes author and LSU alum Beth Moncel that uses tofu as a star ingredient and comes together in just ten minutes!

– Cordelia Heaney, Executive Director

What's your favorite dish to make after visiting the Crescent City Farmers Market? Share your recipes with us on Instagram or Facebook or even Twitter and it might be featured in our weekly newsletter!
Market Match Limit Lifted!
Unlimited Market Match, Market Umbrella's SNAP incentive program, extended through June 30, 2021!
About Us
Market Umbrella is an independent nonprofit 501(c)(3), based in New Orleans, whose mission is to cultivate the field of public markets for public good. Market Umbrella has operated the Crescent City Farmers Markets (CCFM) since 1995.
The Crescent City Farmers Market operates weekly year-round throughout New Orleans. The CCFM hosts nearly 60 local small farmers, fishers, and food producers, and more than 150,000 shoppers annually.