Sunny Days Ahead | March 1, 2021
Fresh & Local:
Sunny Days Ahead
Polar vortex aside, things are looking good! After a week of icy roads, frozen pipes, and cold bones we can finally get back to our norm. The wintry mix may have put a damper on the abundance of offerings in the weeks to come, setting our farmers back and stunting plant growth, but we have a ton to look forward to! Root veggies are strong and hardy, holding up against the coldest of temperatures and perfect for your juicing resolutions or souping needs. We also have a great round up of cole crops such as cauliflower, cabbage, and Brussel sprouts that have survived the freeze. Not to mention hydroponic tomatoes, peppers, and cucumbers which are unaffected by the cold.
Lest we not forget, an update on the status of strawberries - which if they survive can actually sweeten with this kind of cold. CCFM strawberry vendors report some losses, but for the most part, anticipate a ramping up within the next few weeks.
Now is also the time to start prepping for your spring garden and replacing those plants that didn't make it through the storm. It's time to peel back the blankets and go to town… market!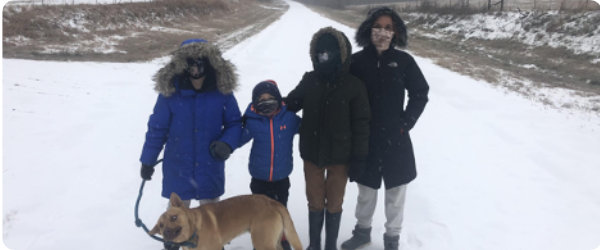 Picks of the Week:

Honoring National Women's History Month

Today marks the start of National Women's History Month! Women's History Month is an annual declared month that highlights the contributions of women to events in history and contemporary society. From the classroom to the farm to the boardroom, women in agriculture are helping to pave the way for a better future. On average, women represent 43 percent of the world's agricultural labor force and 47 percent of the global fisheries labor force, according to the U.N. Food and Agriculture Organization (FAO). At the CCFM, you'll find many woman-owned businesses, and food producer families represented by women at market. We'll be highlighting these vendors in our newsletters throughout the month.
Bucktown Harbor Farmers Market has Closed

Last Friday CCFM said goodbye to our Friday Bucktown Harbor market in Metairie. After operating this market for the last two years in the historic fishing neighborhood of Bucktown, we've found that at this time there has been an insufficient number of shoppers to keep the market in operation, but we encourage our Bucktown shoppers to explore our other markets and home delivery options. Market Umbrella is grateful for the support of Jefferson Parish, Councilwoman Jennifer Van Vrancken, and the District 5 team. Feel free to reach out with any questions and to find out where else to find your favorite vendors.
Calling all Volunteers
Hard freeze is behind us, and the market is a beautiful, outdoor space to be in. Come join us!
Purple Cabbage

It's never too late to add a bit more color to your plate! This week, we are focusing on purple cabbage – a pretty cousin to the more widely recognized green variety. High in fiber, this lil' guy keeps your stomach and gut happy, which in turn keeps you feeling full longer and energized throughout the day. The vibrant pinks and purples indicate that the veggie is packed with antioxidants, which lower the risk of cancers and heart disease and keep your skin glowing – just in time to soak up that warm spring sun! Eat the rainbow by sautéeing up this superfood or adding it to your favorite soups, salads, and stews.
Vendor of the Week:

A&K Citrus

Aloma and Kenneth, the A and the K behind A&K Citrus, have been providing the community with juicy fruit for 50 impressive years. The pair first ventured into the citrus business in the 1970's, and have been selling goods at Crescent City Farmers Market since before Katrina. The small mom and pop farm is located in Braithwaite, LA, and yields a bounty of seasonal fruit such as satsumas, navel oranges, grapefruits, kumquats, mandarins, and more.

It is with a heavy heart that we share the news that Mr. Ken Savastano of A&K Citrus passed away late last week. Our hearts go out to Mrs. Aloma and the Savastano family during this difficult time. Mr. Ken was a beacon of knowledge in scientific discovery and environmental stewardship, not to mention a master of comedic performance. Please keep the Savastano family in your thoughts and prayers. If you would like to reach out to Aloma, please do so via email savastano@bellsouth.net

In lieu of flowers, the family has requested that memorials may be made in his honor directly to Nunez Community College Foundation for the Coastal Studies Scholarship/Savastano. Mail to 3710 Paris Rd., Chalmette, La 70043.
Recipes of the Week:

Braised Red Cabbage with Apples

While a bit time consuming, this recipe yields a lovely, delicious pot of cabbage that can be enjoyed as a compliment to a main course and the cook time is mostly hands off. Many say that this braised dish tastes better on the second day!

What's your favorite dish to make after visiting the Crescent City Farmers Market? Share your recipes with us on Instagram or Facebook or even Twitter and it might be featured in our weekly newsletter!
Market Match Limit Lifted!
Unlimited Market Match, Market Umbrella's SNAP incentive program, extended through June 30, 2021!
About Us
Market Umbrella is an independent nonprofit 501(c)(3), based in New Orleans, whose mission is to cultivate the field of public markets for public good. Market Umbrella has operated the Crescent City Farmers Markets (CCFM) since 1995.
The Crescent City Farmers Market operates weekly year-round throughout New Orleans. The CCFM hosts nearly 60 local small farmers, fishers, and food producers, and more than 150,000 shoppers annually.