Market Match Limit Lifted!
Unlimited Market Match, Market Umbrella's SNAP incentive program, extended through June 30, 2021!
Recipe
Honey Roasted Pecans
The start of spring (and hopefully the end of cold days) has people back on their salad kick. Lately honey roasted pecans like these from The Spruce Eats, have become a favorite at the veggie bar. Nutty and sweet, these golden gems add a candied crunch to the salad du jour. Find pecans and honey at any of our weekly markets now.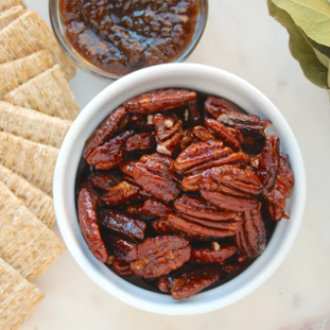 Ingredients
1 cup pecan halves, or halves and pieces
1 tablespoon honey
Pinch of fine salt
Directions
Preheat oven to 350 F. Line an oven safe dish or a baking sheet with parchment paper.
In a medium bowl, combine the honey and pecans until thoroughly coated. Sprinkle with a pinch of salt and toss once or twice more.
Bake for up to 15 minutes. Take care not to over-caramelize the sugar, which will taint the honey flavor.
Cool at least 10 minutes, and serve. Store in a sealed container for up to six months.
---
About Us
Market Umbrella is an independent nonprofit 501(c)(3), based in New Orleans, whose mission is to cultivate the field of public markets for public good. Market Umbrella has operated the Crescent City Farmers Markets (CCFM) since 1995.
The Crescent City Farmers Market operates weekly year-round throughout New Orleans. The CCFM hosts nearly 60 local small farmers, fishers, and food producers, and more than 150,000 shoppers annually.