Market Match Limit Lifted!
Unlimited Market Match, Market Umbrella's SNAP incentive program, extended through June 30, 2021!
Recipe
Easy Garden Pasta
This pasta recipe is a great way to get in your daily serving of vegetables while decluttering the fridge. You'll need a couple of tomatoes, your preferred fat (olive oil is the way to go if on hand!), seasonings and additions of choice, and your favorite pasta! Gather any extra vegetables that have been left behind from the week's meals as well.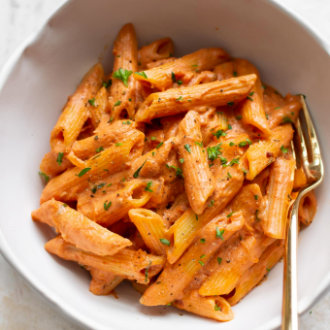 Ingredients
(Yields about 2 servings):
1.5 cups dried pasta, cooked. Save some pasta water for the sauce!
2 tbsp fat (olive oil, butter)
4-5 small or medium tomatoes
Leftover vegetables (could be spinach, onions, broccoli, bell peppers, etc)
Salt and pepper to taste
Optional: About a cup of additions from your fridge (stock, leftover meat/seafood, spices, vodka, white wine, the last bit of tomato sauce, pasta water, heavy cream, dried herbs, etc)
Directions
Heat oil in a saucepan. If using, add garlic or leftover onion and saute. Throw in your tomatoes--whole if small or medium, cut in half if large. Let the skin bubble and char a bit before smashing the tomatoes down until they are crushed and frying in the oil. Season with a bit of salt, and then continue on with the rest of the flavors. Garlic powder, vodka, dried herbs, stock, and heavy cream are great choices here, but the sky's the limit! Use your imagination and your leftovers to concoct a unique taste-of-home meal. This pasta is a great home for the odd carrot or the spinach that was left in the bag.
Once your sauce is simmering and your extras have been added, throw in the cooked pasta and take the pan off heat. Let all the odds and ends come together and finish it off with a bit of butter or cheese. Plate up and enjoy!
This is a recipe by Diya, a market coordinator at the CCFM.
---
About Us
Market Umbrella is an independent nonprofit 501(c)(3), based in New Orleans, whose mission is to cultivate the field of public markets for public good. Market Umbrella has operated the Crescent City Farmers Markets (CCFM) since 1995.
The Crescent City Farmers Market operates weekly year-round throughout New Orleans. The CCFM hosts nearly 60 local small farmers, fishers, and food producers, and more than 150,000 shoppers annually.