Talking Trash (Compost!) | March 22, 2021
Fresh & Local:
Talking Trash (Compost!)
Every week at the Thursday Mid-City market, Schmelly's Dirt Farm will collect food scraps to transform into soil-enriching compost! Examples of acceptable scraps include: fruit and veggie scraps (peels, pits, seeds), meat, dairy, eggshells, nut shells, seed shells, tea bags, coffee grounds, filters, plain grains, plain pasta, and plain bread. No liquids. Follow this link for more information, and please make sure your scraps are frozen.
There are many benefits to composting. Food waste that goes to landfills produces the powerful greenhouse gas methane (because smothered by other trash, the decomposition process becomes anaerobic in the absence of oxygen). When food waste is composted, not only do we avoid those gasses and unnecessary landfill contributions, but we also end up with a finished product that can be returned to the ground from whence it came, providing soil nutrition and aeration for the next crop. So whether you're new to composting or have been looking for a convenient way to get into it (or back into it), bring your frozen food scraps down to the farmers market while you pick up your weekly groceries whose trimmings will become next week's compost.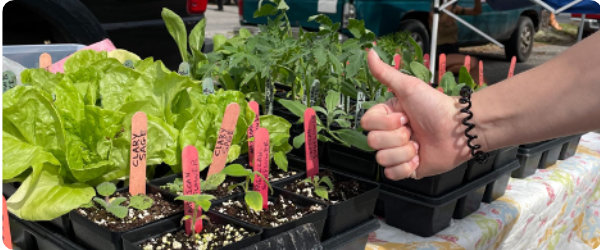 Picks of the Week:

Vote for Crescent City Farmers Market

CCFM has been nominated for USA TODAY 10Best's Farmers Markets! USA TODAY 10Best's panel of food and travel experts narrowed down the field to their top 20, and now we need you to vote for Crescent City Farmers Market as your favorite farmers market in the USA. Vote once per day until voting ends on Monday, April 12 at noon ET. Thank you!
Le Poissons

As we all know, eating seafood during Lent is hardly a sacrifice in New Orleans - especially when it's local, wild-caught seafood from the fishing families that sell at the Crescent City Farmers Market. Anna Marie Seafood is bringing the cream of the crop to the City Park drive-thru market starting Sunday, March 28th - just in time for Good Friday. Remember, the Sunday City Park market is pre-order only, Wednesday through Friday. Use the WhatsGood online marketplace to place your order!
Tofu

Another Lenten alternative is tofu, and thanks to the good work of VEGGI Farmers Cooperative, our market has the best and the price can't be beat. Extra firm tofu is made with non-GMO soy by the Vietnamese co-op Tien Dat. Check out the tofu along with an assortment of Asian veggies from this vendor at the Tuesday Uptown, Thursday Mid-City and Sunday City Park drive-thru via SPROUT NOLA markets weekly.

Transportation is crucial to any farm business, and absolutely essential to support the small farms behind VEGGI Farmers Cooperative who use the vehicle to aggregate products amongst vendors, attend farmers markets, and deliver CSA shares all across the city. Let's help VEGGI replace their stolen van!
Vendor of the Week:

Schmelly's Dirt Farm

Started in 2014 by Nicola Krebill as part of Hollygrove Market and Farm, Schmelly's Dirt Farm is a collaborative effort between six workers to bring viable soil to local Louisiana growers. Nicola has always worked with food and farmers and knows the soil in Louisiana can be difficult to control. Originally a compost collection company, Schmelly's began by gathering food scraps from restaurants and grocery stores and distributing their compost to big buyers. Their arrival to the market on Thursdays has allowed for smaller bagging quantities, which means the rich compost is available for your personal garden at home! The goal is to encourage a local and sustainable lifestyle, so bring your extra food scraps to turn in when visiting the market--and if you need tips on how to start composting at home, Schmelly's is here to help.
Recipes of the Week:

Tofu Chicken Nuggets

A favorite in the household, these tofu nugs are marinated in common fridge items and satisfy all cravings

What's your favorite dish to make after visiting the Crescent City Farmers Market? Share your recipes with us on Instagram or Facebook or even Twitter and it might be featured in our weekly newsletter!
Market Match Limit Lifted!
Unlimited Market Match, Market Umbrella's SNAP incentive program, extended through June 30, 2021!
About Us
Market Umbrella is an independent nonprofit 501(c)(3), based in New Orleans, whose mission is to cultivate the field of public markets for public good. Market Umbrella has operated the Crescent City Farmers Markets (CCFM) since 1995.
The Crescent City Farmers Market operates weekly year-round throughout New Orleans. The CCFM hosts nearly 60 local small farmers, fishers, and food producers, and more than 150,000 shoppers annually.