Market Match Limit Lifted!
Unlimited Market Match, Market Umbrella's SNAP incentive program, extended through June 30, 2021!
Recipe
Peanut Butter and Strawberry Jam Cobbler
This all-American recipe is sure to be a hit at the dinner table with friends or kept as a breakfast that reheats well for the week. The cobbler comes together using pantry staples, with a few extra goodies (like peanut butter chips!) to keep things fun. Cornstarch makes a great substitute for the tapioca and the recipe's author, local cookbook author Joy the Baker, encourages other tasty additions, like chocolate chips or nuts of choice.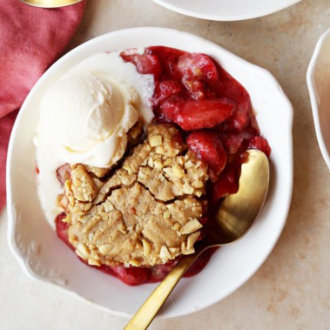 Ingredients
For the Cookies:
1 1/2 cups all-purpose flour
1/2 teaspoon baking soda
1/2 teaspoon baking powder
1/2 teaspoon kosher salt
1 cup smooth peanut butter (Skippy kind, not natural)
8 tablespoons (1 stick) unsalted butter, at room temperature
3/4 cup packed light brown sugar
1/2 cup granulated sugar
1 large egg
1 teaspoon vanilla extract
1 cup peanut butter chips
3/4 cup roasted salted chopped peanuts
For the Cobbler:
2 pints fresh strawberries, hulled and sliced into bite-size chunks (about 4 cups)
2 tablespoons fresh lemon juice
3 tablespoons granulated sugar
1/2 teaspoon ground ginger
1/4 teaspoon freshly grated nutmeg
1/4 teaspoon ground cinnamon
2 tablespoons unsalted butter, melted
2 tablespoons minute tapioca*
Directions
To make the cookies dough in a medium bowl whisk together flour, baking soda, baking powder, and salt in a bowl.
In the bowl of a stand mixer fitted with a paddle attachment or in a medium bowl using an electric hand mixer, cream together peanut butter, butter, and sugars until well combined, about 3 to 5 minutes.
With the mixer on low speed, beat in the eggs and vanilla extract.
Add the dry ingredients to the wet, mixing on low speed until just combined.
Fold in the peanut butter chips.
Spoon dough onto a large sheet of waxed paper and roll into a log. Refrigerate while you combine the strawberry mixture.
To make the strawberry filling, first place a rack in the upper third of the oven and preheat oven to 375 degrees F. In a medium bowl toss together the sliced strawberries, lemon juice, sugar, and spices. Allow to rest at room temperature for 15 minutes until some juices develop in the bottom of the bowl.
Toss in the melted butter and the instant tapioca. Stir to combine. The tapioca will look coarse within the mixture. It will dissolve in the oven.
Spoon the strawberry mixture into a baking dish. Place in the oven and bake for 15-18 minutes, until the strawberries begin to breakdown and release their juices. Remove from the oven and stir.
Remove the cookie dough from the refrigerator and scoop cookies into three tablespoon mounds. Roll in chopped peanuts and use a for to make a # pattern.
Place cookies atop the cooked strawberries. Place in the oven and allow to bake until cookies are lightly puffed and cooked through, 12-15 minutes. Remove from the oven and allow to cool for 15 minutes before serving. Best enjoyed with ice cream.
---
About Us
Market Umbrella is an independent nonprofit 501(c)(3), based in New Orleans, whose mission is to cultivate the field of public markets for public good. Market Umbrella has operated the Crescent City Farmers Markets (CCFM) since 1995.
The Crescent City Farmers Market operates weekly year-round throughout New Orleans. The CCFM hosts nearly 60 local small farmers, fishers, and food producers, and more than 150,000 shoppers annually.