Strawberry Edition | April 5, 2021
Fresh & Local:
Strawberry Edition
In Louisiana, strawberries are typically available from November through May. Shoppers leaving for home with stacks of flats in their arms become a common sight this time of year. Strawbs are the first fruit to ripen each spring and they usher us into a delicious and colorful blueberry, watermelon and peach-filled summer.
Strawberries have been the crimson crown jewel of Louisiana fruit production since the 1800s. Following a wave of Italian and Hungarian immigrants going into strawberry production, LA's strawberry peak in the 1920s saw 14,000 acres in production, with fruit being shipped across the country. Today, there are only about 350 acres in cultivation, but that means that berries stay closer to home.
You can get four delectable varieties at the Crescent City Farmers Market - festival, frontier, camino real (most common), and radiant. Get your strawberry fix at all of our weekly markets and home delivery box by way of Isabel's Tamales & Produce, Johndale's Farm, Faust Farms, Fletcher Farms, and Joe Fekete Family Farm.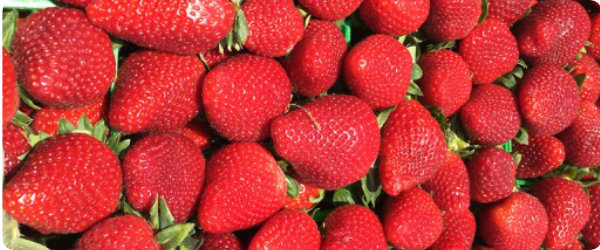 Picks of the Week:

Now Hiring:
Farmers Market Curriculum Developer

Market Umbrella is currently accepting applications for a contract position for a Farmers Market Curriculum Developer to assist with developing SNAP-Education local, seasonal-specific curriculum for implementation at Crescent City Farmers Markets and beyond. The job description can be found on our website for more information.
Farmstand Live

Farmstand Entertainment is the recently founded organization dedicated to rebuilding New Orleans' post-COVID-19 cultural economy through three critical industries: Entertainment, Hospitality and Farming. In an effort to boost these sectors while giving locals and visitors a new platform for live music, dining and fun, the organization has just announced the inaugural events for Farmstand Live – a series of cultural experiences featuring live music, culinary delights and farm fresh produce served up in a drive-in setting.

Taking place on the two Saturdays of what are traditionally Jazz Fest weekends (April 24th and May 1st, 2021), the first two events of Farmstand Live will take place at the Shrine on Airline and feature live performances by some of New Orleans' critically acclaimed musicians; prepared dinners from the city's finest restaurants; and farm fresh produce boxes from Crescent City Farmers Market. Tickets on sale now!
Get Ready to GiveNOLA

It's less than a month away - this special day, an initiative of the Greater New Orleans Foundation, is a one day online giving event when everyone who loves our region can support their favorite causes by donating to local nonprofit organizations serving our community. So mark your calendars for May 4, 2021 and get ready to GiveNOLA to the market that you love!
Vote for Crescent City Farmers Market

CCFM has been nominated for USA TODAY 10Best's Farmers Markets! USA TODAY 10Best's panel of food and travel experts narrowed down the field to their top 20, and now we need you to vote for Crescent City Farmers Market as your favorite farmers market in the USA. Vote once per day until voting ends on Monday, April 12 at noon ET. Thank you!
Vendor of the Week:

Joe Fekete Family Farm

This family-owned and operated farm grows produce right outside of Amite, Louisiana. A career educator now retired, Joe Fekete wanted to get back to his roots and reconnect with the earth. Farming has allowed him to settle into his niche: playing in the dirt. This farmer embraces the cyclical nature of the land and doesn't try to fight mother nature. By growing seasonal produce, Joe Fekete's Family Farm helps to restore balance in nature and in the local community. Joe suffered significant crop loss after the recent freeze, but is working his way back to the Tuesday market weekly and hopes to have strawberries soon!
Recipes of the Week:

Peanut Butter and Strawberry Jam Cobbler

This all-American recipe is sure to be a hit at the dinner table with friends or kept as a breakfast that reheats well for the week. The cobbler comes together using pantry staples, with a few extra goodies (like peanut butter chips!) to keep things fun. Cornstarch makes a great substitute for the tapioca and the recipe's author, local cookbook author Joy the Baker, encourages other tasty additions, like chocolate chips or nuts of choice.

What's your favorite dish to make after visiting the Crescent City Farmers Market? Share your recipes with us on Instagram or Facebook or even Twitter and it might be featured in our weekly newsletter!
Market Match Limit Lifted!
Unlimited Market Match, Market Umbrella's SNAP incentive program, extended through June 30, 2021!
About Us
Market Umbrella is an independent nonprofit 501(c)(3), based in New Orleans, whose mission is to cultivate the field of public markets for public good. Market Umbrella has operated the Crescent City Farmers Markets (CCFM) since 1995.
The Crescent City Farmers Market operates weekly year-round throughout New Orleans. The CCFM hosts nearly 60 local small farmers, fishers, and food producers, and more than 150,000 shoppers annually.